Australia Wine Tasting Holiday Highlights
Beautiful Australia Holidays

Australian wine is renowned world-wide and the environment in which the vineyards bear their fruit and beautiful rural landscapes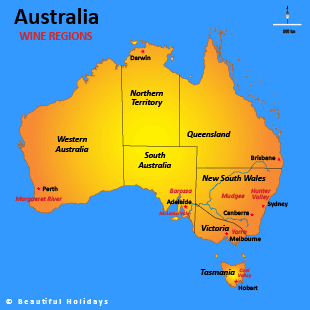 Map of Australia showing wine growing regions
Our Top ASD Destinations
The McLaren Valley region is less than an hour from Adelaide, so is great if you're pushed for time
Mudgee has several surrounding wineries, and may be less expensive than some of the popular destinations listed above
The Great Southern region in Western Australia is the country's largest wine region
Beechworth in the Yarra Valley outside has historical sights as well as wine
Visiting the Best Vineyards in Australia
Hunter Valley in New South Wales is one of the best places in Australia to taste wine – and you can stay here in considerable style too. The Pokolbin area is dotted with small, picturesque hamlets and excellent wineries, and is also a good place to find a restaurant. Broke, in the middle of the valley, is fast-developing as a wine destination, while at the other end Wollombi has a traditional pub, which serves fine wines and the alarming-sounding Dr Jurd's Jungle Juice. Newcastle is the capital of the region – it's likely that you'll end up here at some point to enjoy the ocean baths. You don't need to worry about getting around the vineyards, either – plenty of companies offer wine tours around the valley, with pick-ups available from as far away as Sydney.
Margaret River has numerous wineries, both small and large. Cabernet is the most popular grape here, but you can also try wines made from merlot, chardonnay and many other varieties. Margaret River is also a fabulous destination for foodies – as well as some great local cafés and restaurants, you can also try locally made chocolate, yoghurt, cheese and local bakeries, while beer lovers will enjoy the microbreweries. If you're travelling with a family or simply don't want to spend all your time on the tasting trail, then there are some excellent nearby beaches where you can try surfing, or just sunbathe. Several operators run tasting tours from Perth to Margaret River – however, it's a popular area to stay in as there is much to do, including visiting caves and the Wardan Aboriginal Cultural Centre.
Barossa Valley in South Australia is home to Jacob's Creek, Penfold, Wolf Blass and several other world-famous wineries, as well as numerous other smaller vineyards. You can either stay in the area – some of the country-house style accommodation is amazing, although even the smallest inns usually offer wine tastings – or visit on a day trip from Adelaide.
Tasmania has several wine tasting regions. The easiest to reach is Coal Valley, where Charles Reuben and several other producers are based. The light, white wines are a great accompaniment to a hot day. Tours from Hobart out to the Coal Valley mainly run on the weekends. However, if you have some time to stay on the island, head to the north-east – you'll find the pace of life here is slower than many other places. The top draw here is the Pipers River wine region, which produces some of Australia's best sparkling wine. Launceston's Tamar Valley is the third main wine-growing region in Tasmania – you can take a combined river cruise and tasting expedition, as well as visiting the wineries under your own steam or on a tour. If you have a non-wine-drinker in your party, then a visit to Boag's Brewery should feature on your itinerary to keep them quiet!
The Yarra Valley is a great place to combine wine tasting with other tourist activities. You can drop into the Healesville Sanctuary to see a platypus, take a hot air balloon flight, play a round on one of the top golf courses in the region and check out one of the farmers markets. But the wines are the main attraction – pinot noirs, chardonnays and sparkling wines are the order of the day. The Yarra Valley can be seen from Melbourne – it's around an hour away – and there are several companies that offer wine-tasting trips. You can also get around by taking the tourist train, or by hiring a bike.
Australian Wine Tasting Tips
Most wine regions can be done as a luxury break, staying in fancy accommodation and eating at extremely good restaurants. However, don't worry if you're on a budget – you can stay in a nearby city and get a tour, and the more popular destinations have a range of accommodation, so you'll find something on budget.
Don't drink and drive. Aside from it being a cretinous thing to do in the first place, Australia has very strict anti-drink and driving laws, and the local jail probably isn't on your holiday to-do list. There are plenty of companies offering tours around wine regions, so make use of them or stay close to the vineyards.
Pace yourself. Don't get plastered at the start of the day as you're unlikely to stay the course, and it'll ruin the rest of the day for you and your companions. Drink lots of water as you go, too as its not just the Australian sun that dehydrates you.