Romantic Holidays in Australia
Beautiful Australia Holidays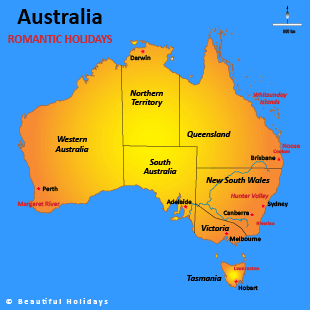 Map of Australia showing Romantic Locations
Our Top Romantic Australia Holidays
Noosa is perfect for a romantic seaside break
Hunters' Valley is a good destination if you and your beloved enjoy food and wine
Melbourne is great for restaurants
Margaret River is a lovely area, with vineyards, restaurants and other delights
Australian Romantic Holidays Guide
Launceston, in the north of Tasmania, has a lovely city park and various historical sights – have a relaxed day seeing the city, before finishing up in one of the many restaurants – or you can round off your evening by taking a ghost tour. Launceston is also a great base for enjoying other Tasmanian activities – take a trip to the Ben Nevis ski resort in the winter, while all year round you can enjoy wine tasting in some of the island's vineyards. You can also take a cruise on the river, or visit Cataract Gorge, where you can take a chairlift ride or walk over the rope bridge. You can also enjoy one of the secluded walking tracks together – there are loads of options for a romantic stroll around Launceston.
The Blue Mountains have many hideaways, and a lovely laid-back vibe. Katoomba is the biggest town, and has an arty vibe that you'll love. Go to Echo Point lookout to see an amazing panorama that includes the The Sisters. If you're looking for somewhere with good shopping, then head to nearby Leura, which has some very good restaurants – you can also take a self guided tour of the historical sights of the town. Wentworth Falls is a good choice to stay in, as its very quiet and relaxed – book into one of the local B&Bs, or there's a nearby resort with a swimming pool.
The Great Barrier Reef, particularly the smaller islands, can be an excellent romantic destination. If you're feeling flush, get a helicopter across to the resort on Heron Island, where you'll enjoy gourmet food, nature walks and be able to chill out at the top-class spa. On Lizard Island, you can also enjoy an upmarket resort – or go basic by staying in the campsite. Either way, you'll love the beaches and snorkelling. South Molle is one of the most romantic destinations in the Whitsunday Islands – play tennis, walk in the forests, laze together on the beaches and snorkel in the warm and clear seas. Bedarra Island is another option for a luxury stay – you can hire a dinghy, enjoy a wine tasting tour of Australia, sunbathe together on the secluded and exclusive beaches and enjoy some fantastic cuisine.
Coolum, on the Sunshine Coast, is more relaxed than many comparable resorts, and a great place to come for a chilled, romantic beach holiday. There's a hotel spa here – you check in for your stay to enjoy a luxurious holiday, or book a day spa to enjoy some pampering.
The Riverina district of New South Wales has friendly villages and some excellent places to eat, drink and sleep. Albury is the main coastal town, where you can wander around the Albury Library Museum and Botanic Gardens, and stop for a latte, or one of the locally produced red wines, in one of the town's cafés. Shellharbour has a pretty name, and is perfect for an easy weekend trip to the beach. Kiama has more to see, with a blowhole and a lighthouse. Jervis Bay is bigger and can get busy during the holidays – come here to enjoy the national park and botanic garden.
Tips for a Romantic Holiday in Australia
Some beach resorts get busy with the dreaded schoolies, or school-leavers, at the end of November or beginning of December. If you're planning a romantic trip, check the peace isn't going to be shattered by hundreds of teenagers celebrating their new-found freedom!
Most of the Australian wine regions have cosy boutique hotels and good places to eat, so are good places for relaxed and romantic breaks, providing you don't go overboard with the tasting sessions!