Australia Sightseeing Holidays
Beautiful Australia Holidays

Sightseeing is top of the list for most travellers visiting Australia. Sydney Opera House and Ayres Rock, maybe the obvious icons, but there are som many varied sightseeing opportunities in this vast continent from unusual land formations and Aboriginal cave paintings in The Outback, world heritage listed tropical rainforests, snowy capped mountains to historical relics pertaining to Australia's penal colony past.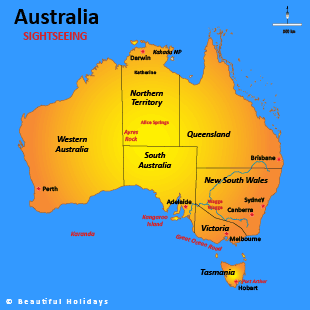 Map of Australia
Australia Sightseeing Highlights
Melbourne has many of Australia's top museums
Kangaroo Island is a great destination to see wildlife and try wine tasting
Darwin has some great historical attractions, but also has loads of fun attractions too
Canberra has many places of national significance, as you'd expect from Australia's capital city
Sightseeing Holidays in Australia
Sydney has numerous sights. The Opera House and Sydney Harbour bridge are the most iconic sights, but there's plenty more to keep you occupied. Circular Quay is the hub of the harbour area; come here to listen to buskers and enjoy the lively atmosphere, or join a guided cruise. Shop at the Strand Arcade, a Victorian shopping mall filled with upmarket retailers. The historic Customs House gives you a great view over the city, while the Botanic Gardens are a must-do Sydney experience, with plenty of plants and great views. The Gardens are also close to Sydney Hospital and Parliament House, both buildings significant to Australia's history. There are numerous museums in the city, including the Museum of Contemporary Art, the Museum of Sydney, and the Hyde Park Barracks, which used to be home to convicts. When you get bored of sightseeing, head to Bondi Beach or one of Sydney's many bars and restaurants.
Wagga Wagga means 'the place of crows', and is generally goes by the shortened name of 'Wagga'. Wagga is New South Wales' largest inland city, and is stuffed with sights. Foodies will make a beeline for the winery and cheese factory – the cheese is flavoured with local ingredients. Railway enthusiasts will love both the model railway and the Rail Heritage museums, while there's also an extensive art gallery and the Museum of the Riverina, which is in the historically significant Council Chambers, and close to the beautiful Botanic Gardens. There are numerous places to eat out in Wagga, and if you're lucky you'll catch one of the regular farmers' markets.
Alice Springs is one of the best cities to base yourself in if you fancy seeing some of the Australian Outback. There's a good chance that you'll pass through here if you're on the way to Ayre's Rock, but there's plenty to see in Alice itself. There are numerous sights related to the history of the Outback and early communications, including Adelaide House, the Old Timer's Museum, the Pioneer Women's Hall of Fame, the Flying Doctor Museum and the Telegraph Station, which chart the whys, hows and whos of the settlement of the Outback. If you fancy trying something a bit more energetic, then there are camel rides, quad biking and a desert golf course available. Alice has plenty of accommodation options, and some fun night-life too.
Lord Howe Island, an hour flight off the New South Wales coast, is the perfect place to visit if you want to see some amazing natural sights, and it's one of Australia's most beautiful islands. You can see the lagoon, the underwater volcano, and join a guided tour to find sea-bird colonies, dolphins, secluded coves and find out more about the island's rainforest. This is also a top destination for outside sports – there's diving, snorkelling, fishing and walking available, as well as tennis, golf and bowls. Lord Howe Island is part of New South Wales, and is around two hours flight time away from Sydney and Brisbane.
Port Arthur is Tasmania's main attractions are the Historic Sites of Port Arthur. One of the key places included in the Historic Sites are the remains of the former penal colony, which used to house who were shipped out here from the UK for committing a variety of crimes – although many appear to modern eyes to have been unfortunate, rather than in need of severe rehabilitation. You can also visit the Isle of the Dead and take a ghost tour, as well as seeing Point Puer, the boys' prison – although these are only available as part of a guided excursions.
The Great Ocean Road in Victoria state is a spectacular driving route, and essential for any motor enthusiasts that visit. However, there are many, many places worth seeing between Torquay, at one end of the road, and Warrnambool at the other. There are numerous viewpoints you can stop at for a great view of the coast, including Teddy's Lookout, Split Point Lighthouse, and Cape Otway Lighthouse. Port Campbell National Park includes the 12 Apostles range, and you can complete the Great Ocean Walk. Take your time completing the route and stop off at one of the many resort towns along the way, including Anglesea, Lorne and Aires Inlet.
Sightseeing Tours & Accommodation
Most of the sights listed above can easily be seen on a coach trip, although hiring a car will allow you to get around at your own pace.
Generally, destinations with plenty of sights also have a good range of accommodation, from luxury to budget – you should always find something within budget.