Australian Skiing Holidays Highlights
Beautiful Australia Holidays

Probably not the top priority for overseas visitors but never-the-less skiing holidays in Australia are pretty good and a less busy alternative to the ski slopes in New Zealand. With the snow falling in the high mountains of Victoria and New South Wales from May to October, the main Australian ski slopes are the Snowy Mountains and Victorian Alps. Both can get busy at weekends with local Australians visiting from the cities but weekdays are generally quiet and offer well kept slopes and some great views from its peaks.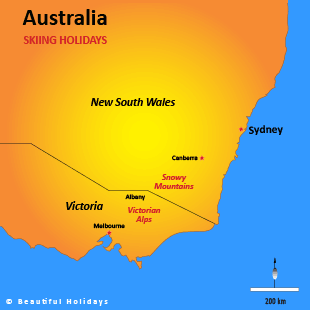 Map of Australia showing skiing locations
Our Top Skiing Destinations
Canberra gives you the option of combining sightseeing with skiing in the Snowy Mountains – although it's a long day trip
Melbourne is a possible base for a day trip to the Victorian Alps
Tasmania has the least busy ski slopes in Australia and good cross country skiing
Skiing Holidays in Australia
The Snowy Mountains in New South Wales is Australia's top ski destinations, and Perisher, in Perisher Valley, is the busiest winter sports destination in the Snowies. Its easy to access, with a dedicated railway, the Ski-tube, running from Bullocks Flat, which is below the snowline. Once in Perisher, you'll find fifty ski-lifts and a wide variety of runs for skiing and snowboarding – some are very suited for children learning to ski, while others are more advanced. There's also a ski school, and several shops, restaurants and lodges. Perisher used to be four resorts – Perisher Valley, Smiggins Holes, Blue Cow and Guthega – which have now merged. However, the resort covers quite a large area, so you'll need to make use of the ski tube and lifts to get around. However, there's a fair chance you'll end up staying at nearby Jindabyne, a pretty town with a lively après-ski scene. Elsewhere in the Snowies, Charlotte Pass is snowbound for much of the season, and you'll need to ski here from Perisher. When you get here, you'll find four ski lifts and a chalet. The runs mostly suit experienced skiers, and book well in advance if you want to stay here as accommodation is very limited. Thredbo is a village resort, which is alpine in character. As well as skiing and snowboarding, there's also a bob-sled track here. You can also ski at Kiandra, which was where the sport was introduced to Australia – fittingly, its particularly good for beginners.
The Victorian Alps aren't as busy as the Snowies, but remain a popular ski destination, and have a dozen or ski resort towns. Mount Buller is the busiest and has numerous places to stay, including a youth hostel if you're on a budget. There are ski runs to suit all levels here – from easy runs close to the village, to the tough Fanny's Finish. Falls Creek is Australia's only ski-in, ski-out village. As well as snowboarding and skiing, it has opportunities to try tobogganing, snow biking, and snow tubing. There's a luxurious spa in Falls Creek, and there's also plenty for kids to do here. Mount Hortham has trails to suit everyone, and has a great après-ski scene. Mount Buffalo, Mount Stirling and Mount Bogong all have runs too. The High Country in Victoria is also a noted destination for spas, and is close to Melbourne – you should be able to fit sightseeing, relaxing and city night-life into a trip to the snowfields, if you so wish.
Tasmania's slopes are relatively quiet and undeveloped compared to the Snowies or the Alps, but some skiers will love escaping from the crowds. The biggest ski resort in Tasmania is Ben Lomond, which operates from around July to September. Skiing, snowboarding and tobogganing is available here, and there's also a ski school to help you learn or brush up on your technique. There's a daily bus from nearby Launceton during the ski season, which is where you're likely to end up staying as accommodation within Ben Lomond National Park is limited. If you're driving yourself, then make sure you're kitted out with the right equipment for snowy weather – you'll need to rent or buy wheel chains. Mount Mawson is another Tasmanian ski resort – it's suitable for advanced skiers, and has three lifts. A small number of self-catering huts are available in the area. Namadgi National Park is a good destination if you want to try cross-country skiing in Tasmania.
Australian Skiing Holidays Tips
Make sure you're insured for skiing and winter sports before you hit the slopes.
There are relatively few luxury ski lodges in Australia, compared to ski resorts in Europe. However, the Snowy Mountains do have some lodges where you can stay and ski in some considerable style. The skiing resorts can get busy during weekends and school holidays. You might want to book in advance if you're planning to stay during a busy period, or else ski when the slopes are less crowded.
Most of the skiing destinations listed double as hiking resorts in the summer – some cable cars operate all year round.