Australia Luxury Holidays
Beautiful Australia Holidays

If visiting Australia on a luxury holiday you can be guaranteed great hospitality. Mots of the award-wining hotels around the country are boutique lodges where the owner is your proud Australian host giving it their all and with local tour companies offering personalised tailor made excursions to experience the bush. The country draws not only on its outstanding scenery with boutique lodges enjoying some very impressive rural locations, but also on its organic foods and wines. In the cities you'll find all the usual brand hotels with plush suites as well as more contemporary styled hotels. In the islands and coastal regions are delightful small beach resorts catering to the high end market and even at the most remote outback location around Uluru (Ayres Rock) you can sleep and dine in grandeur.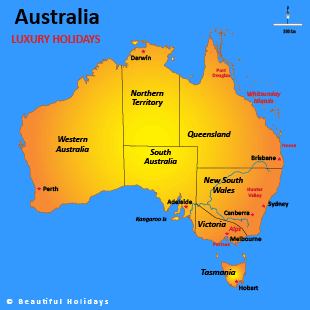 Map of Australia showing Luxury Hot Spots
Australia Luxury Hot Spots
The High Country / Alps in Victoria has some very good spa centres for total relaxation
The Whitsunday Islands are perfect for sailing – you can charter a yacht with crew, or go bareback
Tasmania has some lovely boutique lodges
Sydney has numerous top restaurants and some very swish hotels, and is a must-see
Guide to Luxury Holidays in Australia
Hobart, the capital of Tasmania, is a great choice for a luxury break. You'll love the swanky seafood restaurants, where you can eat lobster, oysters, trevally, and various other fish and crustaceans, all washed down with some of the local sparking wine. The accommodation options are as classy as the food – there are several small hotels, situated in historic buildings, where you'll enjoy wonderful breakfasts and fantastic levels of service. Try a wine tasting tour to nearby vineyards. Or, visit Port Arthur to see some of Tasmania's historical sights. You can also take a trip into the Tasmanian Highlands to go fly fishing.
Noosa, two hours drive north of Brisbane in Queensland, is one of the swankiest resorts on the Sunshine Coast. There are many plush hotels to choose from – both large resort-style places with every facility imaginable, and smaller boutique hotels, which also often have their own swimming pool and other facilities. If you're feeling flush, head to Hastings Street to go shopping – and stop for a break at one of the cafés to see and be seen. There's an excellent beach at Noosa, from where you can try surfing, swimming and kite surfing. Anglers may be interested in chartering a boat to go fishing. Operators run trips from Noosa to all over the Sunshine Coast and its hinterland – a popular option is a day's cruising on the river.
Portsea has a feeling of exclusivity about it, and is the holiday destination of choice for many rich Australians. Old-fashioned wooden jetties stretch out into the clear waters at the village, and parts of the sand are lined with quaint bathing huts. You can stay in one of the area's small hotels – the most famous is right next to the beach – and there are some absolutely fantastic self- catering options. Many of the holiday homes on offer have their own swimming pools, grounds and spa facilities – you'll feel like you're really part of the jet set. Close by, there are antiques shops and golf courses, but you can also enjoy boating and walking around the picturesque peninsula.
Hunter Valley, three hours drive north of Sydney in NSW, is famous as a wine region, but it's also a great place to book yourself into some swanky accommodation. There are some incredible upmarket hotels and boutique inns available, with old-fashioned service and luxurious modern touches. Hunter Valley is also an excellent option for gourmet cuisine. You can get local cheeses, olive oils, ice cream, smoked fish and numerous other goodies, which go well with the local wine and for those with a sweet tooth there's even a chocolate and fudge factory. There are several great restaurants that will serve up these products in elegant and innovative dishes, too. If you want to detox after all the sinful enjoyment that the valley has to offer, then check in to one of the local day spas – you'll come out with glowing skin and feel entirely refreshed. You can also ride above the valley in a hot air balloon, or, more excitingly, and fly in a fighter aircraft.
Port Douglas is a great seaside destination, and one of the most upmarket seaside resorts with easy access to the Great Barrier Reef – it also attracts more than its fair share of celebrity visitors. There are some beautiful resorts here, some with their own golf courses, and you'll enjoy the swimming pools and excellent spa facilities. If staying in a hotel doesn't appeal, then there some lovely holiday apartments for rent, many of them featuring unique art. You can learn to sail here, and take a diving trip out onto the reef; there are also several schools where you can learn to dive, so don't miss out if you've never tried the sport before. If you don't fancy getting wet, then go on a day excursions to a cattle station in the Outback, where you can learn more about how stock-men and women live, and enjoy a lunchtime barbie.
Australia Luxury Accommodation Tips
All of the sizeable cities in Australia have some fantastic luxury boutique hotels where you can stay in style, or for those that prefer to play it safe, all the major brands are here too. Boutique hotels generally serve great local produce and are far friendlier than larger chain hotels.
Nearly all of Australia's wine regions have amazing luxury lodges and also have some very upmarket restaurants too.