Australian Beach Holidays
Beautiful Australia Holidays

Australian beach holidays are as varied as the country itself. The Gold Coast is the busiest beach holiday destination with high rise hotels and nightclubs and the bling to go along with it. But there are also beautiful National Parks where you can camp in solitude and ramble along the coast without seeing a soul. There are great surfing and body surfing beaches in New South Wales, Victoria, South Australia and Western Australia although the further south you get the colder the water gets. Tropical Queensland has the best beach weather but the warm waters bring in stinging jelly fish and sea lice from November to May when its best to head to the offshore islands which tend to be free of these.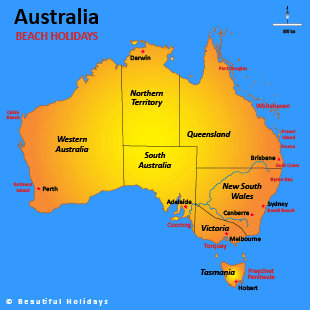 Map of best Australian beaches
Beach Holidays in Highlights
Tasmania is mainly an adventure destination, but there are beaches dotted around the island, including at the Freycinet Peninsula.
South Australia's Coorong is a national park, and is also renowned for its fishing and natural sand dunes
In Victoria, head to Torquay to hit the surf on Bells Beach
For the whitest sand and idyllic warm turquoise waters, head to Whitehaven Beach in the Whitsunday Is.
Beach Holidays in Australia
Australians love the beach and the coastal towns get very busy during school holidays – book well in advance if you're travelling at this time. Alternatively, go just before or after the holidays to enjoy the sunshine without the crowds.
New South Wales has one of the world's most famous stretches of sand – Bondi Beach. As well as being an excellent beach in itself, its also a great base as allows you to combine a beach holiday with visits to Sydney. Coogee is the next most popular city beach, also in Sydney, while Manly Beach has easy access to Sydney Harbour, a surf school and sea kayaking, as well as a brilliant aquarium and numerous other attractions. Further away from the city, Byron Bay has a laid back, hippy vibe – as well as swimming and sunbathing, you can also get your chakras put in order here. Byron Bay is a great destination for backpackers as well as families. Seven Mile Beach, south of Sydney, is often used for surfing competitions. However, it's main attraction lies in the pristine seclusion of the beaches and dunes, and the chance to see pelicans and other wildlife as you enjoy the surf. The nearest town is Kiama, where you'll find accommodation and other facilities.
Mainland Queensland has some fantastic stretches of coast, and whether you're looking for a busy resort with great facilities or somewhere less developed, you'll find it somewhere in this state. In and around Gold Coast, Surfers' Paradise is great for people-watching, posing and partying. However, the scene at Broadbeach and Burleigh Heads is less frenetic – they're far better for relaxing, and also have better opportunities for surfing too. Noosa is a popular upmarket resort, and has a great range of wildlife excursions if you get bored of the beach. Four Mile Beach in Port Douglas is a lovely stretch of sand with plenty of activities, and is good place for cycling – take a trip out to the Great Barrier Reef while you're here. Mission Beach is to the south. It's much quieter than Port Douglas, and is great for enjoying the tropical forest backdrop and relative seclusion.
The islands off Queensland also have some excellent beaches. Tangalooma Island, which is just over an hour away from Brisbane, is a gentle resort that's perfect for families; you can hand-feed dolphins here, and try out quad biking in the interior too. Fraser Island is a UNESCO World Heritage Site – it's popular with travellers for its wildlife, lakes and beautiful scenery as well as its beaches. Try a driving tour with a local guide to see the best of the islands. Whitehaven is the most famous beach on Whitsunday Islands, but this holiday paradise has plenty of other sections of coastline you'll enjoy. It's a great place to dive and snorkel, too.
Western Australia's Rottnest Island is a secluded and quiet holiday destination that families and couples will love. Rotto is easy to reach from Perth, and is full of quokkas, as well as glorious stretches of sand. Cable Beach is another top Western Australian beach destination – it's twenty two kilometres long, so you're bound to be able to find a spot to lay our your towels! If swimming and sunbathing gets old, then you can ride a camel along the sands at sunset. Cable Beach is also of interest to bird watchers, as there are hundreds of species that can be found in the area.
Australian Beach Holiday Tips
Some popular beaches have life guards stationed on them all year round, or at least during the main holiday periods. If they are on duty, yellow and red flags will be evident on the beach, and you should swim in the area they deem to stay safe. If there are no flags, then be aware there are probably no lifeguards either.
Remember the Australian sun gets hot – take plenty of water to the beach, and make sure you've got enough sun block to last until you get back to your accommodation.
The most popular beach resorts in Australia have a wide range of accommodation but can get busy in school holidays, particularly in December and January, so plan well ahead. There are luxury hotels and resorts, B&Bs, small hotels and many more options. If you're on a budget but the thought of a hostel is not an appealing one, try renting a holiday cottage or book a chalet in a campsite.