Great Barrier Reef Holidays
Beautiful Australia Holidays

It is one of the world's most stunning natural wonders. Spanning more than 2000 kilometres of islands and submerged reefs, the giant opal expanse that makes up the Great Barrier Reef comprises more than 70 types of habitats. From whirlpools of glinting silver barracuda to gigantic clams, strange sea slugs and huge turtles, diving in this diverse ecosystem is an unparalleled opportunity to experience some of the most stunning underwater landscapes, marine life and coral reefs the natural world has to offer.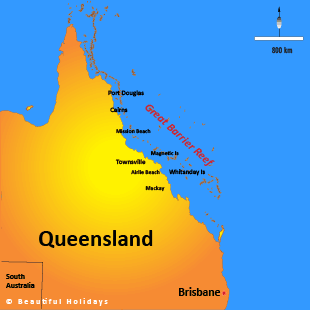 Map of Great Barrier Reef
Great Barrier Reef Highlights
Townsville has dive schools, beaches and much more
Bundaberg has some amazing beaches
Airlie Beach is a popular spot for joining cruises to the Reef
Great Barrier Reef Holidays Guide
A large number of dive sites are based off a number of coastal towns in Tropical North Queensland. Day trips to the reef run from Port Douglas, Airlie Beach and Cape Tribulation. The Southern parts of the reef near the coast of Townsville are known for its wrecks, while the Whitsunday Islands remains the most popular diving destination and is home to the biggest Green Turtle population in the world. Offshore Cairns, Green Island is a 6000 year old coral cay that is well known for its sea-grass beds and the Dugongs which feed on it. For those learning to dive, most towns have affordable dive courses.
The Whitsunday Islands are some of Australia's most beautiful islands, and a fantastic destination for sailing – there are numerous charter companies available, who providing yachts either with a crew or bareback. There are also larger ships where you can cruise as part of a group, which may be a more economical option than having a boat to yourself. There are also numerous opportunities to swim and snorkel on the Great Barrier Reef. Whitehaven is the best known beach in the area, and you'll love sunbathing on the white sands and swimming in the clear blue waters. Hamilton Island is the Whitsunday''s biggest island – it has numerous places to stay and the region's airport, but the downside is that it gets busy during peak season. If you want to stay somewhere more secluded, then many of the smaller islands have lodges – some options are budget lodges and eco-resorts, while Hayman Island is privately owned, and you can't stay here unless you're booked into the luxurious hotel. Camping is a popular way to stay on the Whitsunday Islands, but remember to take sufficient water.
Cairns is a very popular gateway to the Great Barrier Reef. From here, you can take a day trip to Green Island, the only Barrier Reef island with a rainforest – you can snorkel from the beach here, or take a boat trip further out. You can also take a walk around the island to see the plants and animals, hold a baby crocodile at Marineland Melanesia, and view the island from the air by taking a seaplane trip. Fitzroy Island is another popular day trip from Cairns – while you won't see as many fish during snorkelling sessions here, you'll still encounter plenty of marine life. There's also a diving school on the island. Cairns also has numerous tour and excursion operators that specialise in various trips out onto the reef. Some run diving trips, some operate glass bottom boats, while others specialise in bird life. Cairns also has numerous other things to see and do and is sunny all year round, so is a great option if you don't want to spend all your time in or beside the sea.
The Southern Reef Islands of Heron Island, Lady Elliot Island and Wilson Island are excellent places for snorkelling and diving. Heron Island is the biggest of the three, and has a sizeable resort – you can get here either by helicopter or by catamaran, depending on your taste for extravagance! Once on the island, there are a restaurant and bar in the resort, and it's a great place to try diving, snorkelling, as well as offering cruises and spa treatments. From here you can take a day trip to Wilson Island. The nearby Yongala Wreck is one of Australia's best dive sites – the ship sank in mysterious circumstances in 1911, and was only discovered in 1958. Lady Elliot Island is more difficult to access, but has excellent opportunities to see turtles during the summer.
Port Douglas has a friendly, relaxed feel, and is a popular holiday destination. If you're interested in learning to dive, then check one of the local dive schools. Unsurprisingly, there are some fantastic dive sights nearby – including the Tongue Reef and Opal Reef; most of the best places to try scuba diving or snorkelling are less than two hours away from the town. You can take day excursions to the Great Barrier Reef, or try a live-aboard trip. If you don't want to spend your entire holiday doing Reef-related activities, then you should take a trip to Daintree to see the rainforest, or see the Australian Muster Experience, a stockman-themed show.
Scuba Diving the Great Barrier Reef
There are plenty of scuba diving options for both experienced and beginner divers alike. Beginners can easily obtain Open Water Certification at one of the coastal towns on the Sunshine Coast with PADI prominent. For serious divers, taking an expedition diving trip is a great way to explore everything the reefs have to offer. Try a wreck dive along the shipwrecks of Curtin Reef, famous for the giant Queensland Grouper which inhabit these waters. For an added adventure, night diving is an entirely different diving experience which transforms the depths of the ocean in an even more mysterious but no less spectacular setting.
Snorkelling the Great Barrier Reef
Don't worry if you can't, or don't want to scuba dive. The majority of people visiting the barrier reef do so with just a snorkel and mask. There are a great many day cruises heading out to the reef but be sure to choose one that is right for you. Some of the better sites are often a good a two hour boat cruise from the coast and although the seas are seldom very rough, the time aboard a boat may dampen your holiday mood. The Great Barrier Reef is a good place to learn to dive – there are various schools up and down the coastline, and courses take around five days, including plenty of opportunities to venture out onto the Reef. Check you're insured before you take part, though.
Beware of jellyfish – wearing a wetsuit should help you avoid the worst of the stings. Also, you should be aware of other possible natural threats to your well-being, including sharks and toadfish, and what to do if you encounter them.
Great Barrier Reef Accommodation
The busier holiday destinations have a wide range of other tourist activities that have developed on the back of tourism to the Reef – you'll find plenty to keep yourself occupied.
The following Great Barrier Reef accommodation provide some of the best deals for a holiday in Australia - please search below for property information, prices, availability: