European Holidays
The Europe Travel Specialists

Europe is one of the world's smallest continents. But it is also enormously varied. Geographically, it has dramatic mountains, sandy beaches and fjords. And there are so many cultures packed into Europe, and dozens of languages. Although English is spoken in every major city, you'll definitely need your phrasebook. Much of world history was shaped here, at least up until the mid 20th century. You can visit any number of historic sights; you'll find prehistoric forts, Greek temples, Roman palaces, Viking longboats, medieval castles, Renaissance art, Victorian spas and battlefields from last century's terrible conflicts.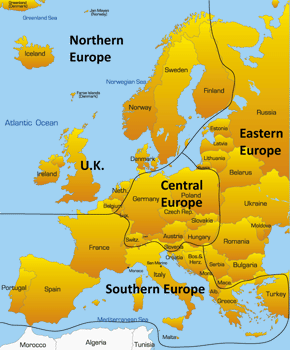 Map o Europe
Travel Destinations in Europe
What to do in Europe
It's not really a question of what to do, but what you can bear to leave out! You could easily spend all your time travelling between iconic cities, like London, Barcelona, Paris, Vienna, Rome and Athens. But it's also worthwhile getting out of the major urban centres – not only to see some local traditions, but to enjoy the slower way of life and also to stretch your budget that bit further. Wherever you go, you'll enjoy fine local cuisines and beverages – you may also be interested in catching a game of football, the continent's favourite sport.
Holiday Highlights
Europe Travel Guide
There's no obvious route that will take you though Europe's highlights. Your best bet is to read up, decide what you want to see, and work it all out on a map. The classic way to journey through Europe is by rail. In Western Europe, high speed trains will whisk you from capital to capital, while in the East, the trains make up for speed with cosiness, and the chance to chat to fellow travellers in old fashioned compartments. If you need to cover ground quickly, no-frills flying is wildly popular, and most local airports will have at least one budget route.
Southern European states like Spain, Portugal, Greece, France and Italy tend to have the best-developed tourist infrastructure and have an enormous amount to see and do. Some of the key developments in Western civilization, like the development of literature, drama, politics and mainstream art, stem from this region. And the food and weather are great too.
Northern Europe isn't as sunny as the south, but more than makes up for it in terms of history, art, music and culture. There are numerous small countries in Northern Europe, which makes it ideal for both city breaks and multi-base holidays. Try travelling around the Benelux countries, Scandinavia and the UK to get some idea of how much cultural variety there is between European nations.
Eastern Europe is generally meant as a catch-all term for the European countries that fell under the communist system at the end of WW2, but even before 1989 there was far more variety between them than many appreciated.
The Central European states of Germany, Austria, Hungary, the Czech Republic, Romania, Slovakia and Poland each have pretty gingerbread-style villages and amazing castles, while history buffs will enjoy the challenge of unravelling the region's complicated history.
The Balkan states are generally a bit more chaotic than their northern neighbours but have a fast-developing tourist industry. If you're interested in dipping into this region, then try booking a beach holiday to Croatia or Bulgaria.
Holidaying in Europe
Europe is one of the most culturally vibrant destinations on earth, and is stuffed with a wide variety of nationalities and languages, historic cities and areas of outstanding natural beauty. There are also some of the world's best clubs and pubs, fantastic restaurants and amazing local cuisines and wines, and some superb beaches and ski resorts. It's usually possible to combine most of these elements into a single holiday – Europe packs a lot of variety into a relatively small space!
Holiday Types
Romance – Italy, France, Prague, Budapest, Amsterdam.
Family Holidays – Portugal, Sweden, Cyprus, Denmark, Spain.
Adventure – Horse riding in Ireland, tank driving/paintballing in Latvia, trekking in the Crimea, sailing in the Greek islands.
Affordable – Turkey, Bulgaria, Poland, Malta.
Sightseeing and Cultural – Germany, Belgium, England, Moscow & St Petersberg.