Portugal Holidays Guide
Europe

And so it follows that one of the highlights of Portugal is both the wine and the food. Who, on a sultry Iberian evening, would turn down a plate of freshly grilled sardines or chicken peri-peri, accompanied by a fine vintage? Noted for its climate and beaches, Portugal is often associated with seaside breaks for Brits of a certain age. If interspersing rounds of beer with rounds of golf is your idea of fun, then you'll be in holiday heaven. But, if you're after something a bit different, then check out the less-visited cities, a fascinating history and arts scene, particularly spine tingling fado – described as a Portuguese take on the blues. Younger, independent visitors may find Portugal attractive both because it is one of the best-value places in Europe, and can offer an off-the-beaten-track cool – if you know where to look.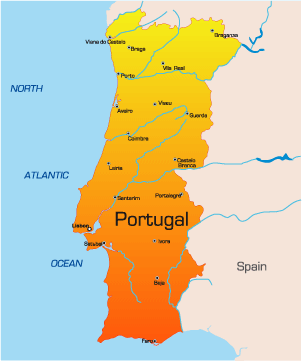 Map of Portugal
Portugal
Lisbon
Sintra
Evora
Figueira da Foz
Porto
Algarve
Coimbra
Batalha
Fatima
Portvgalia
Portugal Holidays Planner
The Algarve is the most famous region of Portugal, and offers pristine beaches along with some of the aforementioned golf courses – some of the best in the world. The Algarve is easily accessible, and packages can be picked up online or at any high street travel agent. But don't be put off if resorts aren't your scene. Hip young (and not so young!) things should make a beeline for the cities to enjoy the culture and nightlife. And remember Portugal is more than its mainland – Portugal was one of the original great European powerhouses of conquest and exploration, after all. The Azores islands are a top honeymoon destination, ideal for relaxing on the sand after the stresses of planning a wedding. Madeira allows holidaymakers to combine beaches with mountains, and is particularly suited for families.
The two main cities are very different in character. Lisbon, with its iconic trams, is laid back and arty, and filled with museums. Porto treads a line between brash and bohemian, and is well worth exploring. Of the smaller cities, Funchal, the capital of Madeira, offers well-manicured gardens and elaborate churches, and is certainly worth visiting on a well-earned trip from the beach. Picturesque Aveiro offers a Venetian-style canal network and easy access to yet more pristine beaches.
Travel Facts
Capital: Lisbon
Language(s): Portuguese
Demonym: Portuguese
Area: 92,090 km2 (110th)
Population: 10,647,763 (77th)
Currency: Euro (EUR)
Time Zone: WET (UTC0)
Drives on the: right
Airport: 7 km north of the city of Lisbon
January Temp: 10°C / Rain Days: 12
July Temp: 18°C / Rain Days: 5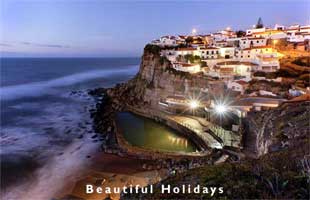 Lisbon-Azenhas do Mar
Portugal Travel Info
And you soon discover there are many more appealing places to visit, once you scratch the surface of this sunny and fascinating land. Bring your swimming kit and your appetite, and enjoy exactly the sort of holiday you want.