England Holidays Guide
Europe

There are many different Englands, and all sorts of holidaymakers come to England to experience them. If you want to seek out traditional English values and experiences, then there are plently of ancient castles, notable theatres, ornate stately homes, sensible seaside resorts, and gardens where one can have tea and cakes on the lawn. But that's not all England is about. Several of the great-post industrial cities are reinventing themselves as centres for entertainment, not least contemporary art. Immigration has enlivened the country's restaurant scene, and created a mix of cultures that's cosmopolitan, but also uniquely English.
Map of England Europe
England
Richmond Park, South West London
Polperro, South East Cornwall
Giants Causeway, Northern Ireland
Glen Nevis, Scotland
Lake District, North West England
Little Venice, London
Hope Valley, Peak District
Cambridge, Cambridgeshire
The Jurassic Coast, East Devon to Dorset
Llanberis Pass, North Wales
England Holidays Planner
There's a lot of choice in England, and most tourists will find a location that perfectly fits their interests. Prosperous Bath is forever associated with Austen. Robin Hood fans can visit both Nottingham Castle and Sherwood Forest. Brighton is often referred to as "London on Sea", and is the most vibrant of all the English seaside resorts. You can be inspired by Wordsworth and wander the Lake District, or by Liam Gallagher and go on the lash in Manchester, arguably England's coolest city. The dreamy spires of Oxford and Cambridge can be offset by an unashamed good-time trip to the Blackpool Pleasure Beach.
Devon & Cornwall, with its beaches and pretty fishing villages, is a popular destination for locals and tourists. Yorkshire is a remarkably varied county, with Viking and medieval sights in its main town, the large industrial and multicultural cities of Leeds and Bradford, the picturesque Yorkshire Dales, and the traditional seaside resort of Scarborough. Carlisle is worth checking out for its castle and for Hadrian's Wall, while Newcastle is famous for its uproarious nightlife. And bohemian types in particular may enjoy a visit to Stonehenge and Glastonbury.
Travel Facts
Capital: London
Language(s): English
Government: Constitutional monarchy
Area: 130,395 km2
Population: 51,446,000
Currency: Pound sterling (GBP)
Time Zone: GMT (UTC0)
Drives on the: left
Airport: 22 km west of central London
January Temp: 6°C / Rain Days: 14
July Temp: 18°C / Rain Days: 10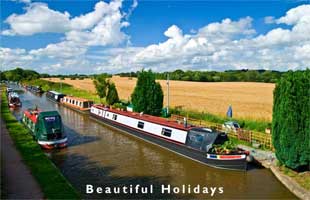 Middle-Shropshire Union Canal-Norbury
England Travel Info
Whoever you are, you'll find a holiday in England that you'll enjoy. The main hardship is narrowing down the options!