The Australian Travel Specialists

Australia conjures up images of bronzed surfers, the scorching outback, vibrant cities and straight talking locals. While the stereotypes may have varying degrees of truth – you're unlikely to spot anyone wearing a hat with corks dangling from it. The iconic sites of Sydney and Melbourne draw the largest crowds. But Australia is far more than its two "big" cities. To many travellers, the beautiful rainforests and unspoilt beaches offer a wonderful backdrop to explore and relax in friendly coastal towns. Stunning wineries and an endless inland wilderness offer fantastic outdoor adventures. The resplendent marine life of the Great Barrier Reef draws day-trippers whilst whale sharks and crocodiles leave those that spot them in awe.. And then there's the "Outback" with its red dust roads, unique wildlife, aboriginal communities and the majestic monolithic ochre peaks of Uluru.
Australia Travel Highlights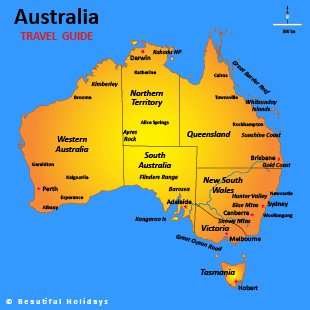 Map of Australia - click for larger map
Australian Travel Guide
Australia is a naturally diverse country of beauty with brilliant white sand beaches, stark stretches of red desert, and lush forests and mountains. Yet the appeal of the thriving cosmopolitan capitals makes Australia an even greater destination for travellers who like to mix things up. One thing is for sure, there are many ways to see Australia and all of them are equally unforgettable.
Queensland is the most-visited state by overseas holiday-makers and makes up for more than half of the eastern coast of Australia. The Gold Coast in the very southern part of the state is popular for its surf scene and beach bars with its main centre, Surfers' Paradise, having raucous night-life especially in the summer months. This area is also great for family holidays, and there are several large theme parks including Wet 'n Wild plus opportunities to go on excursions by boat or into the mountains. The Gold Coast is less than an hour by road from Brisbane, the capital and third largest city in Australia with its tranquil river setting and modern museums. Heading north are the golden beaches of the Sunshine Coast including Noosa with its fashionable restaurants and bars. Over 1,000km further north is the Whitsunday Islands popular for island-hopping, sailing and resort holidays. The northern tourist town of Cairns is the major hub to visit the Great Barrier Reef – although there are numerous other smaller towns, resorts and villages along this tropical coast where you'll be able to go on diving and snorkelling excursions. Visit also the Daintree, home to ancient rain forests and where you'll likely spot crocodiles!
New South Wales is Australia's most densely populated state – although that's a very relative statement, as there's still plenty of places to escape from the crowds! NSW is where you'll find Sydney, Australia's most iconic cities. The state is also embraces Canberra, the nation's capital, and the Blue Mountains , which is excellent for walking and sightseeing. The Hunter Valley is easily reachable from Sydney and is a great destination for wine tasting and further north heading towards Queensland are down to earth beach settlements of the North Coast with Byrons Bay and Coffs Harbour its main tourist towns.
Victoria is Australia's smallest state with sprawling Melbourne at its epicentre. The nearby Yarra Valley has a stunning range of accommodation and is Australia's best known wine region. The High Country has some fantastic spa resorts, as well as skiing. Melbourne has Australia's best night-life – its quirky alleys are famous for vibrant restaurants, music and culture, and a must-see for younger travellers and backpackers. Victoria is a great state for exploring by car as distances here aren't too far and there's plenty of things to see, small towns, quaint restaurants and B&B accommodation - the Great Ocean Road meandering from Melbourne to the South Australia border is one of the world's most iconic scenic roads.
Tasmania has a lot to offer but misses the radar of most overseas holiday-makers, usually put-off by its colder climate. There's excellent luxury accommodation, sumptuous seafood, wine tasting plenty of outdoor adventures from white water rafting to mountain climbing – most of which can be accessed from Hobart, the island's capital. Visit Port Arthur to see historical sights, and enjoy Tasmania's wild coastlines and hilly interior.
South Australia is a more sedate state with mountains, history and outstanding vineyards. The Barossa Valley is home to some of the biggest names in wine in Australia, as well as some amazing accommodation and restaurants. It's well worth visiting Adelaide, the laid back and friendly state capital and a major centre of Aboriginal art. Also worth visiting are Kangaroo Island, rich in wildlife; the Flinder's Range for hiking; and the underground houses of the opal mining town of Coober Pedy
Northern Territory has one of the sub-continent's most famous sights – Ayres Rock, a sacred Aboriginal site now promoted by its indigenous name Uluru. Katherine Gorge is another spectacular natural sight, as are the Devil's Marbles. The biggest city in the Outback is Alice Springs – stay here to enjoy stargazing and camel-riding, as well as a few beers. If you get bored with the desert, then head north to Darwin, the tropical state capital where there are some fantastic historical sights to see as well as being the doorstep to Kakadu National Park and its waterways for birdwatching and fishing.
Western Australia is an enormous state – much of the interior is the Outback, which intrepid travellers will love to explore, especially The Kimberley region n the north. Perth is the state capital, and has great beaches. Margaret River is a top destination for wine tasting and food, and there's excellent surfing at Geraldton. Try diving off the Ningaloo Reef – smaller than the Great Barrier Reef, but less busy too.
Australian Holiday Planner
Beach holidays in Australia are hugely popular amongst overseas visitors and locals with camping a national pastime. Queensland flaunts some of the most stunning opal beaches at its doorstep as well as the massive sandunes of Fraser Island; whilst northern New South Wales have a string of wonderful beach towns as well as Sydney's famous city beaches of Bondi and Manly.
If you're after empty beaches you're better off heading to Western Australia, South Australia or Tasmania where fishing are all superb. If you're new to surfing, then most major destinations have instructors who'll be able to give you lessons. There's also swimming, snorkelling, diving, jet-skiing and numerous other water-based activities available.
All of Australia's big cities are concentrated around the coast with inland and outback areas of the country offering an unparalleled number of outdoor adventures. New South Wales and its capital Sydney are hives of commercial activity while smaller states like Tasmania offer slabs of pure wilderness with great fishing in rivers, lakes and the ocean.
The reputation of Australia's cuisine has improved in leaps and bounds over the last decade or so – it's moved away from its mostly British roots and has added indigenous flavours and Asian touches. The best restaurants use fresh, local produce from suppliers based nearby – but if you can't eat out, don't worry, you can buy the same goodies in the local markets. While there are many elegant restaurants, should definitely, definitely try a barbie while you're here – its an iconic Australian experience, as well as being a great way to eat. Another Australian delicacy you might want to try is the pie floater, a meat pie placed in a bowl of soup. If that sounds alarming, then vegetarians will be pleased to know that they'll be well catered for too.
For drinking, you'll be spoiled for choice – the numerous vineyards around Australia mean that you can do your bit for your carbon footprint and drink local. There are also several breweries around the country, and microbreweries are very popular in some area. Most restaurants offer a BYO service so if you have a particular favourite or have spent the day in the vineyards, take your own.
The vast Outback is a fascinating destination. If you can, arrange a local guide to show you the various forms of life that live in this tough environment. You should also definitely visit Uluru (Ayres Rock), one of Australia's most awe-inspiring destinations. There's also increasing interest in the Aboriginal people and their unique culture. The best places to visit Aboriginal cultural centres, see Aboriginal art or try some traditional bush tucker is in the Northern Territory, South Australia or in Cape York in the far north of Queensland.
Tour the Kimberley's unique beaches, rainforests and waters and say hello to the local crocodiles and bird-life. Take a trip to Tom Price and see one of Australia's largest mining towns. Experience the cultural and indigenous art galleries. Indulge in a day trip to the Swan Valley or Margaret River for some of Australia's finest cuisine and wine. Sit on the beach and watch the day float by until the sun sinks into the ocean.
For those who tune to the beat of a pounding surf, the aptly named Sunshine Coast offers unforgettable marine life and gorgeous coral, while the craggy cliffs of the Great Ocean Road offer spectacular views of a more tumultuous sea. Head to the harsh terrain of the Northern Territory to experience the bush in true outback style and explore Aboriginal culture in the Red Centre. Sip a cup of coffee in one of the many lane-way cafés in Melbourne, or explore regional restaurants in Southern Australia to sample some of the freshest gourmet foods and produce.
The great thing about Australia is that it's huge and it's not hard to find great beaches, spectacular mountains, unique animals and friendly people whichever state or city you visit.
Australian Travel Info
Sydney is Australia's largest international and domestic airport with flights available to and from most towns, but you can also fly into the international airports at Perth, Melbourne or Brisbane. For the trips on the road, many rental companies will offer unlimited kilometre (mile) usage of hire vehicles including camper-vans, motor-homes and 4wd's. No matter what kind of accommodation you are searching for, Australia will have it just around the corner.