The Australian Outback
Beautiful Australia Holidays

The great Australian Outback is a unique environment where wildlife, cowboys and aboriginal communities live at ease amongst breathtaking remote scenery and where tourists come to marvel at the magnificent ancient rock formations which pierce the flat and arid desert landscape.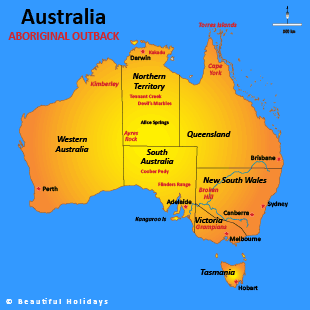 Map of Australia showing outback locations
Outback Highlights
Cape York and the Torres Islands have many indigenous Aboriginal communities
Adelaide's Tandanya Museum is a good place to get a taste for Aboriginal art
The Grampians in South-Eastern Australia are a must for anyone interested in Aboriginal rock art
Broken Hill has many sights related to the mining industry, and is increasingly popular with tourists
Outback Australia
Uluru and the Olgas, or Uluru and Kata Tjuta to the Aborigines, are the two most important sights of both Aboriginal culture and outback Australia. Uluru rises over a thousand feet above the plain and has been photographed a thousand times from every angle and in every season – but yours will still be memorable. Excursions include having dinner under the stars near Uluru, taking a camel ride around the site and viewing the area from a hot air balloon. There are walking trails around the base of the rock and it is possible to climb it, however the Indigenous people of the region (the Anangu) ask you not to climb out of respect for their culture.
Kakadu National Park and Arnhem Land in Northern Territory is the largest park in Australia. The Jim Jim Falls are a spectacular torrent, and one of the highlights of the park. Another is the Bowali Visitor Centre and Warradjan Aboriginal Cultural Centre – these are a good places to start as they will tell you about the flora and fauna of the park, some great viewpoints, and will also let you find out more about the local Aboriginal population and how to venture through the park while respecting their culture. The Nourlangie Rock Art Site is another must-see, as it has numerous examples of Aboriginal paintings. If you're keen on hiking, then you'll be pleased to know that there are numerous trails throughout Kakadu. There are a handful of lodges within the park, although camping is probably the best way to stay, if you have suitable kit. If you'd like to see the park as part of a tour, then you can find numerous operators in Cairns.
Tennant Creek in Western Australia is said to be the 'real outback'. It's also the best place to base yourself if you want to see the Devil's Marbles, a collection of enigmatic spherical rocks that can be found in the desert. Nearby are Kunjarra, or the Pebbles – smaller versions of the Marbles. The Nyinkka Nyunyu Interpretative Centre is the best place to go if you're interested in finding out about Aboriginal life in the area, including local legends about the origins of the Pebbles and Marbles. The Winanjjikari Music Centre is also a highlight for anyone interested in Aboriginal culture.
Kimberly is a top tourist area – but don't worry, there's plenty of wilderness here that allows you to get away from the crowds. The Bungle Bungle National Park, or Purnulu National Park, has amazing rock formations and gorges, as well as wallabies and budgies. The main entry point to the park is Warmun – however, this community is far more than a service town. You should definitely stop to see the art display, as Warmun has produced many notable Aboriginal artists – you can also arrange a flight over the national park here. North Kimberley also has many notable rock paints, although you'll need permission to visit, so it may be easiest to come on a tour. Broome is a popular Kimberly destination, with numerous tour operators and easy access to the wilderness areas.
South Australia's Coober Pedy is a good choice if you're interested in history of the mining and minerals industry of the outback. There's a mining museum, a fascinating graveyard and a Serbian Orthodox church, and numerous shops selling opals, which the town is famous for. If the landscape around Coober Pedy looks familiar, then it's because it was used as a backdrop to several films, including Priscilla, Queen of the Desert (sparkly slingback shoes are optional, though!). Elsewhere in South Australia, the Flinders Range is another key Australian site. In the range, you'll find Wilpena Pound, an enormous natural amphitheatre and one of the region's highlights. The Pichi Richi Railway runs through the region and you can see some amazing scenery from your window – check in advance if you have your heart set on going by steam, as different trains are used on different days. There's plenty of opportunities for walking and hiking too, or just simply enjoying the peaceful atmosphere.

Australian Outback Tips
If you're visiting an Aboriginal area, make sure you're up to speed with the local customs. Not all Aborigines are keen on being photographed or making eye contact with a stranger, and there are several other etiquette rules for visiting Aboriginal sites and dwellings. Visit one of the cultural centres before you set off, or ask your guide.
Remember that the Outback gets very hot in summer – always take adequate water and sun protection before you head out for the day, as there's no guarantee that you'll be able to find either in remote destinations. Some outback sights and tours are weather-dependent – depending on what you're doing, it may be worth checking with the operator 24 hours in advance to make sure that, for example, a walking or stargazing event is still on.