Guide to Australian Cities
Beautiful Australia Holidays

As far as Australian cities go, the great rivalry is between Sydney and Melbourne. Chic fashionable Melbourn-ites have the restaurants and shops as well as all the great sporting events including the Melbourne Cup (horse racing), The Australian Open (tennis) and the Australian PGA (golf), not to mention the MCC (best known for its cricket although for Australians its the home also for Aussie Rules Football). But it is not a particularly attractive city with few iconic sites, and for this, Sydney wins hands down. It has the harbour (and the bridge), the opera house, the botanical gardens, beautiful homes and some great beaches including Bondi and Manly, s,o in tourist terms, at least, Sydney is the winner in tourist numbers.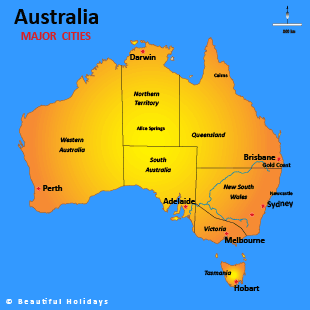 Map of Australia showing cities locations
Our Top City Destinations
Sydney for its beautiful harbour setting, iconic sights and lively beaches
Melbourne for fashion and night-life and watching live sport
Brisbane & the Gold Coast for family fun
Highlights for a City Break in Australia
Sydney and Melbourne are unboubtedly the two major tourist destinations in Australia. That's not to say that other cities are not worth visiting. Brisbane is a great city for families and wildlife and coupled with the neighbouring Gold Coast (a city in its own right), there's plenty of family theme parks and attractions. Canberra has the best museums and Hobart offers a charming seaside port for stress free days.
Sydney is Australia's most vibrant, cosmopolitan and beautiful city, and a must see. The Sydney Opera House is the city's most iconic building, which you can take a guided tour of, and you can also walk or cycle across the Sydney Harbour Bridge. Go shopping or eat out at the Darling Harbour, or have a picnic at the Olympic Park. There are miles and miles of beaches, but Bondi Beach is a good place to start. Both it and the Rocks are also good destinations to experience Sydney's legendary night-life – the Rocks also has many of Sydney's historical sights, including the Colonial House Museum and the quaint houses of Susannah Place.
Melbourne is one of the best destinations in the Antipodes to enjoy eating out – there are all sorts of cuisines on offer, including Greek, Indian and Japanese. If you fancy heading out after dinner, St Kilda is a seaside area with loads of bars and restaurants – kick back with a latte and enjoy watching the waves here, or go to one of the many gigs held here and in other areas of the city. During the day, there are lots of historical sights in Melbourne, including the first seat of the Australian Parliament, and you should definitely visit some of the sights, including the Melbourne Museum – the largest in the country – and the Immigration Museum. Melbourne is the setting for Neighbours, and you can visit Ramsay Street and meet some of the current stars, or take a backstage tour.
Brisbane is a great place to head for a city break with your family. The kids will love the nearby nature and animal-based attractions, which include the Australia Zoo at Beerwah, the Mount Coo-Tha, Alma Park Zoo and the Lone Pine Koala Sanctuary. You can take a whale-watching trip too, or join a river cruise. Brisbane is a laid-back, friendly city with many bohemian pubs and relaxed restaurants. There's a lot to see around the city too, including seaside resorts to inland national parks within easy travelling distance of the city.
The Gold Coast pretty much does what it says on the tin – the city has extensive sunny beaches for you to enjoy, whether you like lazing on the sands, swimming, or surfing best. Speaking of surfing, the Gold Coast has some of the best spots in the country – Surfers' Paradise is the most famous, but there's also Broadbeach and many others. The Gold Coast has some of the best night-life in the country, both at Surfers' and Tweed Heads, with locals, backpackers and well-heeled tourists all looking for a great time. There are also numerous theme parks in the area, including Wet'n'Wild, Dreamworld and Sea World.
Canberra is Australia's capital – a planned city, with beautifully laid out streets, parks and lakes. The main attraction to Canberra is the museums, and other buildings of national significance. The Australian War Memorial is surrounded by parkland, and the Australian Botanic Garden is fascinating – both are perfect for picnicking. Political anoraks will enjoy the Parliament Building and the Old Parliament Building, while families will want to head to Lake Burley Griffin to hire a boat, or visit the Canberra Reptile Sanctuary. The countryside around the city has opportunities to bush walk, see small historic towns and ski.
Hobart is a great place for eating and drinking – you'll be able to try wine from Tasmanian vineyards, local lobsters, clams, linefish and scallops, and visit a chocolate factory and a brewery. You can also take a cruise to Peppermint Bay and see Runnymede, a beautiful colonial mansion. If that sounds a bit tame, then don't worry – Hobart is a great base for trying out some more adventurous activities, including white water rafting and mountain climbing.
Adelaide is a pretty town, where you'll receive a warm welcome from the friendly locals. Go to Glenelg to see the pier and enjoy some old-fashioned seaside fun, and head for the Adelaide Hills to take in the spectacular panorama over the city and plains. There are several museums that tell you about the history of the city and area, while the National Wine Centre arranges tours and tastings. Belair National Park and Cleland Conservation Park opportunities to see native Australian wildlife, while the nearby German settlement of Hahndorf offers cakes, pastries and beer.
Perth, a modern well planned city with almost perpetual sunshine has some excellent beaches to enjoy and is a good base for exploring the hinterland.
Alice Springs is a great base for exploring the Outback whilst Darwin has several fascinating historical sights and great markets.
Tips for Visiting Australian Cities
Nearly all Australian cities have a great range of accommodation, including backpackers' hostels, swanky hotels, mid-level chain hotels, boutique hotels, apartments and holiday homes. Whatever your budget, you'll find something to enjoy.
If you're travelling around Australia, it might make sense to take internal flights between cities rather than drive – but try and spend some time in the bush and the outback too.
If you're pushed for time, then you'll be able to join coach excursions from your city into the surrounding countryside. Many of the wine regions are easily reachable from the closest large city.
Australian cities have a crime level comparable to other first world cities – in other words, you're extremely unlikely to run into trouble if you're sensible, more so if you're not.