Australia Affordable Holidays
Beautiful Australian Holidays

Exploring Australia on budget is made a lot easier by a glut of affordable accommodation and campsites although the cities tend to be fairly expensive places to visit although if you're on a work visa there are always lots of casual jobs to pick up. If you're visiting purely on holiday much depends on the strength or weakness of the Australian dollar which can swing it great momentums depending on the risk appetite of the global economy. If you're timing is right you'll find your money will take you a long way ...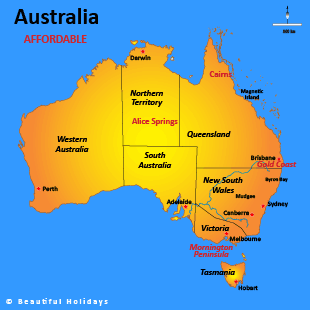 Map of Australia
Australia Affordable Highlights
The Gold Coast has some great affordable options, including nearby campsites
Alice Springs has a range of hostels, and is a great base for visiting the Outback
Cairns is a great place to find budget accommodation, and a gateway to the Great Barrier Reef
The Mornington Peninsula is an upmarket destination, but there are several campsites and caravan parks you can pitch at
Despite Surfers' Paradise being a major holiday destination in Australia, it can easily be seen on a budget. There are many backpackers' hostels in Surfers', as well as holiday apartments. If you're willing to stay in the surrounding areas, then you should be able to find a campsite to suit. If you're hungry, then there are Chinese restaurants where you'll be able to find a budget meal, and various other fast-food type places. There are plenty of pubs, too – you'll be sure to find out that does cheap beer.
Sydney is extremely popular with tourists and a vibrant, busy city. But that doesn't mean you have to spend a fortune to stay there. Bondi Beach is a popular area for backpackers' hostels, and there are also various holiday homes available too. If you're hungry, then a local delicacy is the deep fried Mars Bar, although you'll find healthier options too. It can take as little as half an hour to get to the city centre from Bondi, although there are also budget accommodation options in the city centre.
Byron Bay is popular because of its warm waters, laid back bohemian atmosphere and great surfing scene – come here for a weekend and you could up staying longer, and will definitely want to return. Byron has a wide range of budget accommodation, mainly backpackers' hostels, but also holiday apartments and some out-of-town campsites. You'll find it easy to find affordable places to eat too. There's an excellent social scene in Byron Bay's many pubs and clubs, and the backpacker scene means that there's always a party going on somewhere, no matter what day of the week it is. The 'Rainbow Region' surrounding Byron is a haven for hippy and alternative culture – Nimbin is a nearby free-wheeling village, tolerant of cannabis use, while Yamba is a sleepy coastal town, albeit with several pubs and cafés.
Mudgee is a great place to visit if you're interested in Aboriginal heritage and want a relatively non-flashy wine tasting destination. Budget accommodation comes in the form of bed and breakfasts and guest-houses – some are set in their own lands and have excellent facilities. As well as wine tasting, there's also beer and mead tasting available at local microbreweries. You'll be able to find tasty local produce at the local farmers' markets and delicatessens. Hiring a bike is a popular way to get around the local vineyards – you can also take to the skies for a flight in a microlight plane.
Magnetic Island is an idyllic island off the coast of Queensland. Arcadia and Horseshoe Bay are the best places to stay if you're on a budget – there are plenty of hostels and B&Bs, and both settlements have several pubs and bottle-shops. For cheap eats you can head to the local supermarket, or try the pubs. Most of the island is a National Park, and a free – and healthy! – way to see the sights is to walk. There are several trails that criss-cross the island and take in forts, viewpoints and a nudist beach, if you're into that sort of thing.
Australia Affordable Accommodation Tips
Campervans are an iconic way to tour Australia. You'll find campsites near every town and city – in some cities, like Sydney, it's possible to camp nearby and use public transport to get into the centre. However, camper-van holidays come into their own when you're in a rural area. Campsites by the beach often have excellent facilities that are free for guests, while you should also be able to find pitches in National Parks. If you're in a remote area, there's nothing to stop you wild camping – although make sure you're not going to be disturbing anyone else. If you're passing through food or wine areas, stop to pick up local delicacies that you can enjoy once you've parked for the night.
If you're not up for driving, then most popular tourist locations have a range of hostels and holiday homes. The former are great if you're a young traveller venturing out solo or with a group of friends, while the latter are a good choice for families.