The New Zealand Travel Specialists

Visually, New Zealand is one of the most spectacular places on earth and is also known as the 'Adventure Capital' of the southern hemisphere. It is also referred to locally by its Polynesian name "Aotearoa", the land of the long white cloud. Within a couple of days' drive you can travel from the sandy beaches and cosmopolitan cities of the sub-tropical north to the ancient rainforests, glaciers and fiords of the south. The country consists of two main large islands, the North Island and the South Island, and the smaller Stewart Island extending towards Antarctica. With a land area comparable in size to Great Britain, yet a population of only 5 million people, New Zealand is uncrowded and unspoilt, with many pristine natural attractions to explore.
New Zealand Holiday Destinations
Main North Island Regions
Main South Island Regions
New Zealand Travel Highlights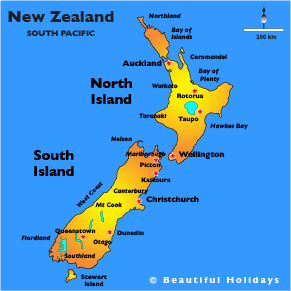 Map of New Zealand
New Zealand Travel Guide
The indigenous people of New Zealand, the Maori, have a Polynesian heritage and provide a warm welcome to visitors wanting to explore their distinctive culture. The North Island of New Zealand is known for its volcanic geothermal region of Rotorua, its world-class trout fishing region of Lake Taupo, and the sparkling blue waters and green islands of the Bay of Plenty. The South Island is known for its adventure and ski resort of Queenstown, as well as the spectacular Franz Josef and Fox glaciers, and the World Heritage listed Milford Sound, where rain-forested mountains stand straight out of the pure blue waters of the sound.
The North Island, New Zealand
Auckland, the largest city in New Zealand, pivots on an isthmus with its focus squarely on a beautiful meandering harbour. Picturesque islands flank the east, accessible on day trips; and sub-tropical rainforest hems in the west side with wild sweeping spectacular beaches. Come to Auckland to climb a dormant volcano, visit a museum, cruise around the harbour or climb Lion Rock on stunning Piha Beach to the north.
To the north, Northland is rural, sub-tropical, staunchly Māori, yet peppered with historical European settlements too. The warm climate and protected sandy beaches along the east coast provide great swimming. Water sports thrive here with kayaking around sheltered bays and scuba diving in marine reserves, particularly around the tourist hub of Bay of Islands. Come here to visit craft fairs, walk amongst giant kauri forests or drive along Ninety Mile Beach.
Central North Island hosts the most varied landscapes in New Zealand. Much of it is agricultural, with sheep farms, vineyards and orchards, with the most photogenic countryside around the perfectly shaped cone of Mt Taranaki on the west coast. Rainforest with waterfalls reach down to sandy surfing beaches of The Coromandel and along much of the south-east coast. The central plains is dominated by huge active volcanoes boasting geysers, mud pools and crater lakes. Come here also to hike along the breathtaking volcanic landscapes of the Tongariro Alpine Crossing, relish the natural thermal spas of Rotorua, catch a giant trout in Lake Taupo or taste the varied wines of Hawke's Bay.
Genial Wellington is the the small quirky capital of New Zealand set in a stunning deep harbour on the southern tip of North Island. Street-side cafés, boutique breweries, sassy clubs and excellent museums epitomize Wellington's arty scene. Come here to mingle with the locals, explore the scenic Shelly Bay coastal drive or spot native bird-life including kiwis on stunning Kapiti Island.
The South Island, New Zealand
The spectacular ferry journey from Wellington to the South Island arrives into the sleepy Marlborough Sounds bragging the finest vineyards in New Zealand. A myriad of peninsulas, bays and islands provides a spectacular and secluded setting for kayaking, sailing and fishing. Come here to sip wine and eat seafood in arty Nelson and hike the outstanding Abel Tasman coastal track with its isolated beaches.
The Southern Alps dominate central South Island: towering snowy mountains heave with glaciers whilst mist-shrouded glacial lakes offer a magical ambience epitomised through the location film sets of Lord of The Rings. Canterbury, with its sprawling farms and rugby fields is home to Christchurch, the most English of cities, blooming with manicured botanical gardens. Come here to traverse the spectacular wilderness of the Southern Alps by train (or drive yourself), to climb snow-capped Aoraki/Mount Cook or marvel at the wildflowers surrounding Lake Tekapo.
The sparsely populated west coast is the place for solitude, beachcombing along wave-sculptured coastlines and exploring the rugged, forested mountains. Come here to take contemplate the mirrored reflections of Lake Matherson, take a guided walking tour over Franz Joseph Glacier or explore Kahurangi National Park and it's unusual limestone coastal formations,
The southern part of the South Island is the most raved about destination in New Zealand with Queenstown, the tourist hub, where thrill-seekers come to consume all sorts of adrenalin-fuelled adventures on the lake and in the surrounding snowy mountains. The Fiordlands region is adorned with majestic scenery and dozens of phenomenal walking trails and it's popular too for cruises. Come here to ski around Queenstown, hike the Routeburn or Milford Track, watch the Southern lights in the Catlins, and spot penguins and kiwis around Stewart Island.
New Zealand Holidays Planner
An explosion of dramatic scenery, New Zealand seduces our senses. Short walks to lookouts, rambling day hikes, and multi-night tramps into the wilderness are a-plenty. Should you bungy jump, zip-line or raft along raging rivers? Or play it easy by casting for trout in a glacial lake, sipping wine in a county cellar or taking a leisurely soak in an outdoor thermal spa.
Geographically split in two, North Island is most populated, yet even this remains predominantly rural. Warmer than the south, it flourishes with prime farming land at the foot of majestic cone-shaped volcanoes and easy-going seaside towns with surfing and kayaking. South Island is wilder, with majestic snow-capped mountains, glaciers creeping into rainforest and ragged fjords that captivate the hearts of photographers.
New Zealand is renowned for its stunning walking tracks amongst the 13 National Parks. Take a short stroll to a panoramic lookout, or try one of the multi-day wilderness tramps bunking down for the night in a backcountry hut. If adrenalin is your thing, New Zealand's famed bungy-jumps, white water rapids and hair-raising jet boat rides tempt the junkies
New Zealand is also well-known for its sumptuous fresh seafood and produce, and there are many world-class fine dining options and luxury wilderness lodges. Famous lamb cutlets, award-winning vineyards, orchards bursting and wild herbs plentiful, farmers markets burst with organic produce and the sought-after Mānuka honey.
Many visitors choose to hire motor-homes or camper vans and do self-drive tours around the spectacular regions of New Zealand. There is an excellent network of uncrowded national highways, as well as scenic coastal and mountain routes and dedicated camp sites for vehicles (and traditional campers with tents) plus freedom camping in many regions where you can pull up in a dedicated car-park or roadside.
New Zealand Travel Info
New Zealand is located in the South Pacific Ocean, a short 3½ hour flight across the Tasman Sea from the east coast of Australia, or 12.5 hours from Los Angeles. The cities of Auckland, Wellington, Christchurch and Hamilton have international airports. Domestic air travel between cities and regional towns is extensive but quite expensive. Hire a camper van and take to the back roads travelling through awesome mountain passes, stopping for picnics at pretty roadside lookouts and staying in countryside B&Bs along the way. A number of bus companies offer 'hop-on, hop-off' transfers between the major tourist centres. A car ferry service operates between the North Island, departing from Wellington, and South Island, arriving at Picton, taking just over 3hrs
Those looking for affordable accommodation will find a warm and friendly welcome at the many B&Bs, camping parks, backpacker hostels and farm-stays, many of which are in spectacular locations. Hotels abound too, mostly boutique styled and some with beautiful spas.
The climate in the north of New Zealand is sub-tropical, with mild winters (June - August) and hot, humid summers (Dec - Feb). Central New Zealand has a Mediterranean temperate climate, with cool, wet winters and mild summers, while in the southern alpine regions the temperatures are much colder.