Australian Wildlife
Beautiful Australia Holidays

Australian wildlife is absolutely unique with the likes of koalas. kangaroos and platypus not seen anywhere else in the world and have become iconic attractions. The best place to see wildlife is naturally in the wild, but for those with a less adventurous spirit Australia has some excellent zoos and wildlife sanctuary for getting up close to the animals. Although none of the large land species to spot are dangerous, Australia does have its share of venomous snakes and spiders and plenty of nasties in the water to be aware of including salt-water crocodiles, great white sharks and stinging jellyfish. The sea though does have plenty of mammals and fish to enjoy: humpback whales visit the Queensland shores from May to October every year, whale sharks can be spotted off Western Australia, penguins and sea-lions frequent the South Australian coast and the Great Barrier Reef is home to thousands of beautiful reef fish as well as sea turtles and dolphin pods.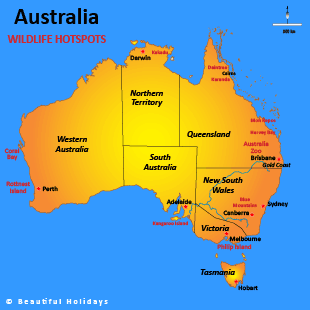 Map of Australia showing wildlife locations
Australian Wildlife Highlights
Rottnest Island, 20 kilometres off the coast of Perth, is home to thousands of quokkas – similar to kangaroos, but smaller
Australia Zoo, founded by Steve Irwin's family, has a great range of wildlife and is involved with various conservation and wildlife programmes
Philip Island, which is reasonably close to Melbourne, is an excellent choice if you're interested in seeing penguins and dolphins
Coral Bay in Western Australia is one of the best places in the country to see whale sharks
Where Best to See Australian Wildlife
North Queensland is stuffed with opportunities to see Australian wildlife. Karanda, which can easily be reached from the popular tourist spot of Cairns, has a butterfly aviary with many lovely rainforest butterflies. Also near Cairns, the Atherton Tablelands are a top spot to see platypuses. If you'd prefer a more sinister animal, then go to the Daintree north of Port Douglas to spot a croc; you can also take a walking tour of the jungle with an Aboriginal guide, who will be able to tell you more about the plants and animals of the rainforest. Magnetic Island is a laid-back beach destination, but also has many wild koalas; you'll hopefully be able to see one if you take one of the walking trails around the island. Mon Repos Beach, on the Capricorn coast, is the best place on mainland Australia to see turtles hatching from November to March, and you can also stay here on a voluntary holiday, helping to tag the turtles.
South Queensland is equally exciting for wildlife experiences. In Brisbane, the Lone Pine Koala Reserve gives you the opportunity to pat kangaroos and koalas, and also see platypuses and a range of other animals – it's one of the top ten zoos in the world. Moreton Bay off Brisbane's coast is a good spot for spotting humpback whales between July and November but the main whale watching centre in Australia is a little further north at Hervey Bay – there's also a local museum about sharks. Hervey Bay is on one of the main routes to Fraser Island; this is a popular destination because of its amazing scenery, and it also has plenty of dingoes.
South Australia has some great wildlife experiences on offer. Cleland Conservation Park in Adelaide allows you to walk amongst emus and wallabies, and pat kangaroos. From the city, you can easily reach Kangaroo Island, which is a haven for wildlife. This is a great destination for kangaroos, wallabies, and penguins – the colony of koalas is also chlamydia-free and thriving. If you want to combine wildlife encounters with other top Australian experiences, then bear in mind that Kangaroo Island which is also an excellent destination for its beaches and wineries. Apart from the Kangaroos, the island has a healthy community of koalas, plenty of sea-lions on the beaches and you can watch Little Penguins come in to bed down for the night in the main town of Kingscliffe. The South Australian outback is also an excellent place to see wombats, the anteater-like numbats and bilbys, which look a little bit like bandicoots. Both of the last two species used to be extinct, or near-extinct, in South Australia, but have relatively recently been re-introduced.
You don't have to travel far from Sydney to see some Australian wildlife, which is handy to know if you're pushed for time. Hunter Valley is an excellent place to spot wild kangaroos, providing you haven't had too much wine! The Blue Mountains, which are in commuting distance from Sydney, are a good place to spot koalas in the wild.
For bird lovers, Kakadu is a great place to observe in a pristine wetlands environment, and maybe you'll be be watched as well by one of the local salt-water crocodiles.
Australia Wildlife Facts
Kangaroos can be a pest in rural communities – left to their own devices, they'll cause devastation to crops and generally cause havoc with the fragile ecosystem. Kangaroos therefore need to be culled to protect many other species – so, although they look cute, don't feel bad about tucking into some kangaroo fillet.
Koalas aren't actually bears. Their conservation status is debated between governments and various NGOs, but their numbers are suffering because of outbreaks in chlamydia and other diseases, and also loss of their natural habitat.
Crocodiles do kill, so beware and take care where you swim. Crocodiles are found in the northern tropical regions of Queensland and Northern Territory.