Australia Adventure Holidays
Beautiful Australia Holidays

If you're heading to Australia for an adventure holiday you'll have plenty of options to weigh-up from some exceptional day hikes to off-road driving tours that can last for months.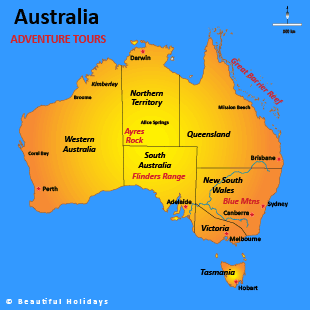 Map of Australia
Australia Adventure Highlights
Uluru (Ayres Rock) has several adventure tours operating in its vicinity, including camel riding and quad biking
The Blue Mountains are close to Sydney and perfect for some moderately challenging climbs
The Flinders Range and the mining town of Coober Pedy inland from Adelaide have plenty of adventurous excursions
The Great Barrier Reef has many, many dive sights – Heron Island has some particularly fascinating locations, but there are many more
Western Australia's coastline has some fantastic adventure holiday opportunities. Coral Bay is close to the Ningaloo Reef – you can snorkel and dive here, and in the spring this is a prime location for seeing whale sharks. There are also opportunities to try sea kayaking and quad biking. Inland, the Karijini National Park has amazing gorges and peaks, and is best explored on foot. to Broome has sunset camel riding too.
Mission Beach in Queensland is touted as the meeting point between the rainforest and the Great Barrier Reef. There are lots and lots of things to do here. You can arrange a skydive in the local area for the ultimate adrenaline experience – there is also white-water rafting, kayaking, blo karting, diving tours and snorkelling. Nearby Innisfail has plenty of adventure activities too, mainly centred around hunting and fishing. You can try regular angling, or set yourself a challenge by attempting spear-fishing. Angling trips based around catching around big barramundi are also available. If you've always fancied yourself as a budding Robin Hood, then try bow-hunting – excursions are available where you'll track and hopefully shoot boar, goats, buffalo and deer.
Alice Springs in the heart of Australia has some great opportunities to try adventuring in the outback. One option for getting around is to join a camel safari – various lengths are available, but you'll be assured of expert help to assist you with getting the best out of your mount. Quad biking is another popular Outback activity, and its easy to arrange a day trip into the wilderness. 4x4s and motorbikes are available – the former are great for tackling difficult terrain and purpose-build tracking, while anyone who is young or young at heart will love cruising the Outback on a Harley or similarly impressive bike.
Tasmania is a fantastic destination for mountaineering, with some demanding ascents possible into the island's peaks. Mountain biking is also very popular here, with some operators running tours where your accommodation and meals are provided – all you have to do to get around is provide the pedal power. There's also hang gliding and zip-slide experiences on offer, and you can try some of the off-road trails. If you'd prefer just to chill out for a while, fly fishing is available in the mountain lakes and streams.
The Whitsunday Islands off Queensland's tropical coast is a great destination for sailing. If you're feeling lazy you can rent a boat with crew, while the experienced can sail there own. You can also learn how to handle a boat here, as there are instructors available to – literally – show you the ropes. The Whitsundays also have some prime dive sites, many of which are amongst the best in the world.
The Snowy Mountains are Australia's premier skiing destination – August is the peak season for hitting the slopes, and Perisher Valley in Victoria is excellent for skiing, snowboarding, snow-tubing and other winter activities. In the summer, rock climbing, mountaineering and hiking are just some of the ways to get your adrenaline going. There's also horse riding, quad biking, abseiling, kayaking and white water rafting on offer. There are plenty of places to stay, too, as well as some good fishing and spa destinations for those who want to intersperse adventuring with relaxing.
Australia Adventure Holiday Tips
As ever, make sure you're comprehensively insured before you try skiing / snowboarding / bungee jumping / croc wrestling / white-water rafting, or any other sort of extreme sport.
Make sure your operator knows what he or she is doing – check reviews and registrations with the appropriate professional bodies on the internet and ask around for word-of-mouth experience before you sign up.
If you're heading somewhere that has the possibility of wild animal encounters, check that you know the basic procedures for how to deal with potentially dangerous situations before you go.