Wales Holidays Guide
Europe

Although the weather may be changeable, the wealth of attractions in Wales make it a year-round family friendly destination – in the summer, it's also a popular destination for walking and climbing. Wales offers some spectacular medieval castles – some of the best examples you'll see anywhere in the world. National Parks are also a key part of the Welsh tourist industry. Snowdonia, the historical home of bearded, fiery-eyed Druids, is arguably the most important of these in terms of national mythology; legend has it that King Arthur sleeps here, in a cave hidden under a veil of mist. Welsh culture flourishes; take in an Eisteddfod, one of Europe's oldest cultural gatherings, to hear the famous Welsh choirs.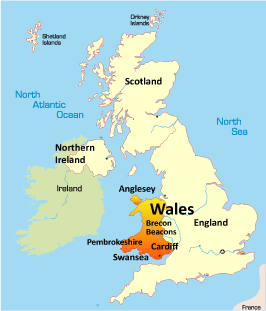 Map of Wales Europe
Wales
Snowdonia
Pembrokeshire Coast
Brecon Beacons
St. David's
Hay on Wye
Harlech Castle
Welsh Male Choir
Conwy
Machynlleth
Cardiff
Wales Holidays Planner
One unique visitor experience is to visit the slate mine at Bleanau Ffestiniog. This manages to combine Wales' industrial heritage with its rich mythology, as walking the underground caverns can feel like you've stumbled into a magic cave system. Make a day of it by taking the steam train from the town to Bets-y-coed, a pretty mountain resort village. Caernarfon features one of the aforementioned spectacular castles; this is where the heirs to the English throne were first awarded the title "Prince of Wales", but ironically enough is also a stronghold of the Welsh language. Lively Aberystwyth has a pub 'for every week of the year', but teetotallers can still enjoy the sunset and funicular railway.
If you hanker after a traditional seaside holiday, then Rhyl is the Welsh equivalent of Blackpool, while Llandudno is a more sedate Victorian-era resort, overlooked by the rocky Great Orme. Well-heeled, walled Tenby is ideal for those who want a more elegant seaside experience. Welsh cities are also well worth exploring – take a tour of the Millenium Stadium in Cardiff, and if you're any sort of sci-fi fan you should visit the city's Doctor Who Exhibition. Swansea is a fascinating blend of the modern and medieval.
Travel Facts
Capital: Cardiff
Language(s): Welsh, English
Demonym: Welsh
Area: 20,779 km2
Population: 3,006,400
Currency: Pound sterling (GBP)
Time Zone: GMT (UTC0)
Drives on the: left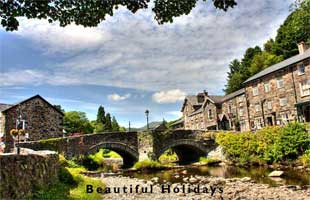 Snowdonia-Beddgellert Village
Wales Travel Info
And lucky visitors may catch sight of a Welsh dragon slumbering in the valleys, boyo!