Austria Holidays Guide
Europe
Noted for its coffee, chocolates and pastries, as well as its refined cities and spectacular castles, Austria is one of Europe's year round destinations. Come here for alpine peaks, blue skies, crystal clear lakes and wholesome living. In the winter, you can ski, sled and snowboard in resorts that are smaller and cosier than the ones in neighbouring Switzerland. In the summer, hiking, fishing and cycling are popular activities. If this all sounds far too energetic, remember that you can admire the scenery while having a massage, and generally being pampered, at one of Austria's alpine spas.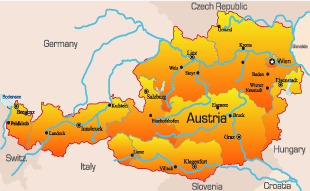 Map of Austria
Austria
Salzburg
The Hohe Tauern National Park
The Museum of the Future, Linz
Eisriesenwelt Caves
The Benedictine Abbey, Admount
The Swarovski Kristallwelten (Crystal Walk)
The Archaeological Museum, Carnuntinum
Gurk Cathedral
The Grossglockner Alpine Road
Vienna

Austria Holidays Planner
There are two main cities that you'll want to visit. Saltzburg is the birthplace of Mozart and is understandably proud of its most famous son; in addition to visiting Mozart related sights and attending concerns of his music, you eat even eat Mozartkuglen chocolate. Saltzburg was also the backdrop to the Sound of Music; fans of the perennially popular musical can go on a coach tour of film locations. Full of elegant parks and buildings, Vienna is one of Europe's great capitals and was formerly the capital of a vast empire – see the Treasury in the Hofberg Palace for a taste of imperial Austro-Hungarian grandeur. Although famous for its elegant balls, Vienna also has an edgier underground nightlife, and is a great place to see live bands.
The Tyrol is possibly the most famous area of Austria – the capital, Innsbruck, has hosted the Winter Olympics on several occasions. The Hohe Tauern National Park is an area of outstanding natural beauty, although the avalanche risk means that some areas close in winter – come in summer to enjoy the spectacular toll road . Graz, with its landmark clock tower, is the second-largest city in Austria. Take the funicular up to its castle to enjoy spectacular views of the town. Lake Constance, one of the biggest in Europe, is a fine place to enjoy a swim, and stay for a coffee or beer afterwards – the locals in lakeside Bregenz are noted for their friendliness.
Travel Facts
Capital: Vienna
Language(s): Austrian German
Demonym: Austrian
Government: Federal Parliamentary republic
Area: 83,855 km2 (115th)
Population: 8,414,638 (92nd)
Currency: Euro (€) (EUR)
Time Zone: CET (UTC+01)
Drives on the: right
Airport:
January Temp: 0°C / Rain Days: 8 / Snow Days: 6
July Temp: 20°C / Rain Days: 11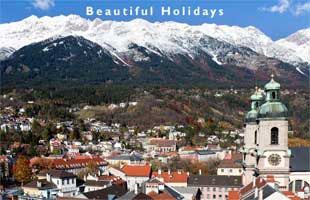 Austria-Insbruck
Austria Accommodation Guide