Czech Republic Holidays Guide
Europe

The Czech Republic is a quintessential Mitteleuropean holiday destinations; visitors come for its fairytale castles, the premium beer, and its baroque and medieval towns and cities. Prague is particular popular for city breaks – indeed, most of the Czech Republic's visitors do not make it outside the beautiful capital. But Prague isn't the only place worth visiting. Equally picturesque towns are as-yet relatively undiscovered, while the Czech Republic's forests and mountains reward those who search for peace and quiet. Rather at odds with its quaint image, the Czech Republic is a leading destination for medical tourism – and, depending on what you're having done, you're likely to be able to combine medical appointments with at least some sightseeing.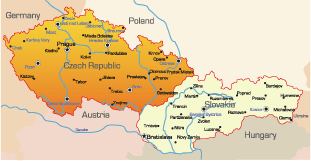 Map of Czech Republic
Czech Republic
The Prague Castle
Charles Bridge
The Old Town
Josefov
New Town of Prague
The Lesser Town
City Center of Brno
Spilberk Castle
Vankovka Gallery
Cesky Krumlov State Castle and Chateau
Namesti Svobody
Czech Republic Holidays Planner
Prague is one of Europe's most stunning cities. You can spend hours wandering around and amongst the famous castle, stunning bridges, spire-topped churches and medieval squares, just drinking in the beauty and the atmosphere. Prague is amazing whichever season you choose to visit – although a winter trip can also be combined with a shopping expedition to the hugely popular Christmas market. The small town of Cesky Krumlov also attracts many visitors. As visually stunning as the capital, you can try your hand at rafting the town's river, or those who prefer to stay dry may prefer to tour the area on horseback.
Much of what you'll want to see is located in Bohemia. The Cesky Raj, or Bohemian Paradise, is a mountainous area with hilltop castles and amazing rock foundations – hikers will enjoy the mountain trails in this region. The city of Brno does not have Prague's beauty, but is worth a trip to see its regular fireworks competitions, and it also an essential stop for motor sports devotees. If you like travelling off the beaten track and prefer beer to wine, then it may be worth a trip to the Mutenice region. And if you fancy a dip in this landlocked country, then head to the spa town of Karlovy Vary, where you can try its thermal pool.
Travel Facts
Capital: Prague
Language(s): Czech
Demonym: Czech
Government: Parliamentary republic
Area: 78,866 km2 (116th)
Population: 10,535811 (78th)
Currency: Czech koruna (CZK)
Time Zone: CET (UTC+1)
Drives on the: right
Airport:
January Temp: -1°C / Rain Days: 7 / Snow Days: 6
July Temp: 18°C / Rain Days: 9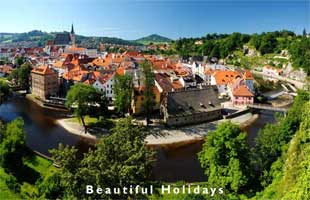 Cesky Krumlov