Denmark Holidays Guide
Europe

There's lots to see in Denmark – castles, seashore, cities and, perhaps surprisingly, a large number of amusement parks that make the country ideal for family-friendly holidays. The nation's cities are keen to promote themselves as short break destinations, and all are renowned for their nightlife. Denmark's history is also a great tourist draw – let's face it, you're going to have to check out some Viking attractions. Spread over various sites, these include Viking ships, a catapult, runic stones and even, if you get bored of your travelling companions, a sacrificial bog. Denmark's flat landscape and eco-friendly credentials also make it ideal to explore by bike.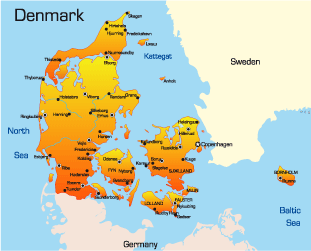 Map of Denmark
Denmark
Kronborg Castle near Helsingor
The Oresund Bridge connecting Denmark and Sweden
The Original Legoland in Billund
The Old Town of Aarhus
The Island of Bornholm
Amalienborg Castle, Copenhagen
The Little Mermaid, Copenhagen
The Tivoli, Copenhagen
The Stroget, Copenhagen
Denmark Holidays Planner
You can spend days in Copenhagen – in summer, you can swim in the harbour pool and soak up the sunshine in pavement cafes. Year-round activities include the impressive royal palaces and Europe's longest pedestrian thoroughfare, the Stroget, where you can shop for high-quality souvenirs. The Tivoli Gardens in the capital are also a must. Younger visitors will love the roller coaster and assorted other rides, and the park also features a concert hall where you can see both classical and contemporary artists. Outside of Copenhagen, the biggest attraction in the country is Legoland, which is instantly appealing to anyone who has spent any time playing with the little colourful bricks – don't go mad in the shop without checking your luggage allowance first!
Denmark is fairly easy to break down into regions. Jutland is on the mainland has Denmark's beautiful Lake District, while the de-facto capital, Aarhus, has some excellent museums. Funen is and green and lush, and its capital Odense is where Hans Christian Andersen was born – reread his fairytales before you go, so you can appreciate his birthplace and the associated garden when you're there. Zealand has many of the country's fascinating historical sights, including the Viking boat museum in Roskilde and the Trellebourg fortess. Bornholm also has Viking and medieval sights, and Danes visit this rocky island for its beaches and beer.
Travel Facts
Capital: Copenhagen
Language(s): Danish
Demonym: Danish or Dane(s)
Government: Unitary parliamentary democracy and constitutional monarchy
Area: 43,075 km2 (132nd)
Population: 5,564,219 (110th)
Currency: Danish krone (DKK)
Time Zone: CET (UTC+1)
Drives on the: right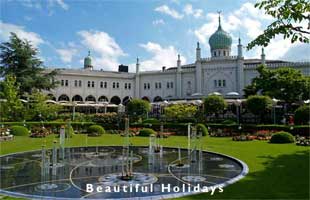 Copenhagen-Tivoli Gardens