Switzerland Holidays Guide
Europe

Most visitors to Switzerland come to enjoy the extensive ski resorts, which are open from October to March or even sometimes April. For the rest of the year, visit Switzerland to enjoy walking in its mountains, and the very ambitious may want to attempt the mighty Matterhorne. If that's just way too strenuous, you can combine cities with trips to picturesque villages. Switzerland is also noted for high-quality goods, including cheese, chocolate, knives and watches – all make ideal souvenirs. Although Switzerland's food is not generally as famous as that of its neighbours, there are few better meals to enjoy with friends than a raclette or a fondue.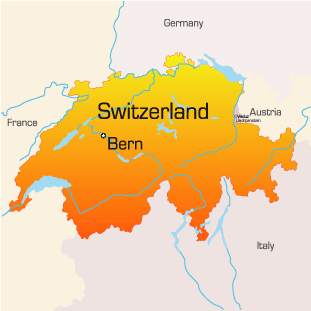 Map of Switzerland
Switzerland
The Jungfrau Region
Chateau de Chillion – Montreux
Fasnacht Spring Carnival – Basel
Swiss National Park – Zernez
Geneva
The Matterhornn – Zermatt
St. Moritz
Mt. Pilatus
St. Gallen
The Rhine Falls
Switzerland Holidays Planner
Zurich is one of the main entry points to Switzerland. Although a city famous for banking may not be terribly appealing to trendy backpackers, Zurich also has the highest number of nightclubs per capita in Europe. Once you've got over your hangover, there are numerous visit-worthy places within less than an hour's travelling; these include the museums in Winterthur, pretty Baden and Rapperswil, where you can take a cruise on Lake Zurich. Further afield, Interlaken is a popular base for sports, and also to explore the Bernese Alps. In addition to the usual skiing and snowboarding, you can also take a nighttime sledding trip from the town.
Berne has a lower profile than other capitals in the region – unfairly so, as it is remarkably beautiful and has plenty to see and do, with its medieval clock tower, zoo and numerous museums. Lake Geneva is Switzerland's biggest lake; in addition to water-based activities, you should also visit here to try the locally produced wine. The city of Geneva was the intended base for the ill-fated League of Nations, and you can visit the spectacular Assembly Hall. The thought-provoking Red Cross Museum is another highlight. If that's all too heavy, then simply kick back and enjoy a premium Swiss beer in one of the numerous cafes and restaurants.
Travel Facts
Capital: Bern
Language(s): German, French, Italian, Romanish
Demonym: Swiss
Area: 41,285 km2 (133rd)
Population: 7,866,500 (95th)
Currency: Swiss franc (CHF)
Time Zone: CET (UTC+1)
Drives on the: right
Airport: within the town limits of Belp
January Temp: 0°C / Rain Days: 9
July Temp: 18°C / Rain Days: 6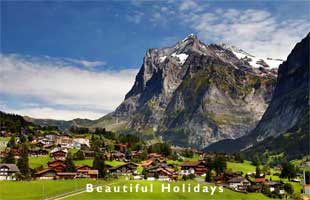 Berner Oberland-Grindelwald Village
Switzerland Travel Info
Remember that although Switzerland is in the middle of Europe, it's not part of the EU. It's therefore worth checking your duty allowances before you go, depending on where you're travelling on to.