Russia Holidays Guide
Europe

Russia is the biggest country in the world, yet much of it is undiscovered by Western tourists. Russia's biggest cities are popular city break destinations, and river cruises are an excellent and relatively accessible way to enjoy the country. But sense of adventure is a prerequisite to enjoying Russia's vast hinterland, whether you fancy ice fishing, tracking wildlife, or trekking across mountain ranges. If you're travelling independently then it's worth cultivating a basic grasp of the language and alphabet, but don't worry, it's less difficult than it first appears! Remember that although Russia has embraced capitalism, it's not part of European free-travel agreements; most visitors from the English-speaking world will need to arrange a visa in advance. But the preparations just add to the sense that you're going somewhere truly different.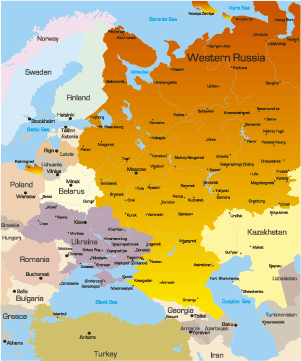 Map of Russia
Russia
Saint Isaac's Cathedral
Red Square
Peter and Paul Fortress
Alexander Column
Kremlin
Church of the Resurrection of Christ
Newski Prospekt
Sparrow Hills
Metro
Chram Christa Spasitelja
Russia Holidays Planner
Many visitors start off their trip to one of the two main cities. St Petersberg boasts the Hermitage Museum, as well as many other spectacular palaces, museums and churches, and is a world famous centre for ballet and opera. You hardly need reminding that Moscow has the Kremlin, Red Square and St Basil's Cathedral – and even the Moscow metro system is an architectural gem. For travellers with a bit of time on their hands, the classic way to experience Russia is the Trans-Siberian Express – the traditional way to pass the time is with some classic Russian novels, vodka and a chess set. It takes around six days non-stop to get to Moscow from Vladivostock. However, there's much to detain you along the way, including the enormous Lake Baikal, and the city of Yekaterinburg.
For those who are travelling through Eastern Europe but would also like to be able to say that they've visited Russia, the Kaliningrad Oblast is a geopolitical curiosity, lodged between Lithuania and Poland and accessible from both – luckily for those planning to attend the 2018 World Cup! On the other end of the scale is Petropavlovsk-Kamchatsky in the far east of Russia, which is only reachable by air, and attracts bear hunters and those curious to see the nearby volcanoes. If that's still not adventurous enough, visit Murmansk – from here, you can take an ice-breaking ship to the North Pole!
Travel Facts
Capital: Moscow
Language(s): Russian
Demonym: Russian
Area: 17,075,400 km2 (1st)
Population: 142,905,208
Currency: Ruble (RUB)
Time Zone: (UTC+3 to +12 (exc. +5))
Drives on the: right
Airport: 29 km north-west of Moscow
January Temp: -6°C / Rain Days: 2 4
July Temp: 19°C / Rain Days: 7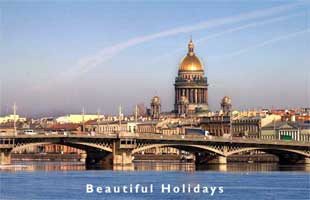 St Petersburg-Nevra River and Isaackievsky Cathedral
Russia Travel Info
Whichever region of Russia you choose, you'll have a unique break and be able to impress your friends with your intrepid travelling experiences afterwards.