Nigeria Holidays
Africa

Nigeria isn't the most obvious destination in Africa, yet its size, population and economic importance make it one of the continent's biggest economies. There is much to see here – you can relax on the beaches, visit wildlife reserves, and haggle at markets in the bustling cities. Or you can try and track down that nice Mr Ngombo who wants your bank account details to deposit a million dollars of oil money! Nigeria is a developing country and, outside the main cities, is best suited to backpackers – it's an essential stop for those doing longer routes through West Africa.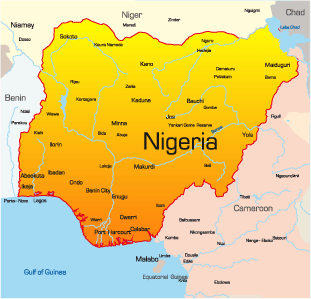 Map of Nigeria Africa
Travel Facts
Capital: Abuja
Language(s): English
Area: 923,768 km2 (32nd)
Population: 155,215,573 (7th)
Currency: Naira (NGN)
Time Zone: WAT (UTC+1)
Drives on the: right
Airport: located in Abuja
January Temp : 27°C / Rain Days: 0
July Temp: 25°C / Rain Days: 4
What to Do in Nigeria Africa
Lagos is one of the largest cities in Africa. The city covers several islands, the most important of which are Lagos Island and Victoria Island. These include some of Lagos' most important business and leisure districts, and have golf courses, shopping malls and nightclubs.
Nigeria Holidays Guide
Badagry Town was an old departure point for slave ships. There are lots of excellent beaches and beach bars around the coastline. Abuja is the capital and much safer and less frenetic than Lagos, although has less to see; the city's Millenium Park is a highlight, and there's also an impressive National Mosque.
Although you're likely to enter and exit the country from one of the two main cities, the National Parks are perhaps more appealing destinations. The Yankari National Park is one of the best in the region, which has numerous elephants and also hot springs, which you can bathe in. Strictly Islamic Kano is one of the oldest cities in West Africa; visit the dye pits and the market.
The Sacred Forest at Osun-Osogbo, near Osogbo, is another worthwhile destination. More generally, Nigeria has a challenging reputation. Check travel advice before you go and avoid the Niger Delta; some areas are also prone to religious tension.