Madagascar Holidays
Africa

Madagascar lies off the coast of Africa, in the Indian Ocean. This island has something of both continents, but is also a unique destination with many animals and plants that are found nowhere else on Earth. You can trek through tropical forests in the hope of seeing lemurs, chameleons and lizards.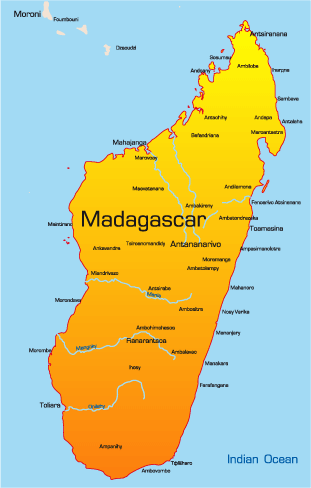 Map of Madagascar Africa
Madagascar Facts
Capital: Antananarivo
Language(s): Malagasy, French
Area: 587,041 km2 (45th)
Population: 20,653,556 (55th)
Currency: Malagasy ariary (MGA)
Time Zone: EAT (UTC+3)
Drives on the: right
Airport: located in Antananarivo
January Temp : 21°C / Rain Days: 11
July Temp: 14°C / Rain Days: 3
What to Do in Madagascar Africa
The island of Nosy B is Madagascar's premier beach resort – but, although it's comparatively very busy to the rest of the country, remains very undeveloped. Enjoy people watching, fresh seafood and swimming here, and you can go on a catamaran cruise to nearby Nosy Komba, which has a volcano.
The Malagasy people have a rich cultural heritage, and many believe that their ancestors have magical powers; see if you can arrange a visit to one of their ceremonies or festivals. However, you can also enjoy Madagascar's many pristine beaches. Yacht and catamaran charters are a fine way of seeing the coasts.
Madagascar Holidays Guide
Masoala National Park is one of Madagascar's top wildlife sanctuaries – keep your eyes peeled for lemurs, birds and geckos. The southeast has unusual plants, strange rock formations and beautiful rainforests, and is one of Madagascar's highlights. To round off a hard day's sightseeing, try a shot of local rum.
The main point of entry for air travellers is Antananarivo, or Tana for short. Spend a day or so viewing the sights here, but the main points of interest are elsewhere. There is little tourist in east Madagascar and so its ideal for getting off the beaten track, apart from the sunny island of Ile Sainte Marie; a former haven for privateers, it has its own pirate graveyard. Visit Toamasina, a large port city, to see it's fantastic canals.You may find it useful to learn a few words of Malagasy before you visit, and to revise your French.