Benin Holidays
Africa

In a region of Africa that's frequently riven with conflict, Benin is a peaceful, stable country. Tourist infrastructure is not particularly well developed, which has both positive and negative aspects; however, the number of visitors is growing. You can see the remains of ancient kingdoms and colonial ruins, particularly of sites used in the slave trade; if you'd rather just chill out, then visit the beaches and national parks. Voodoo is practised the region. Food-wise, fufu is popular and you can relax with some beer, which is relatively cheap and often safer than the local water.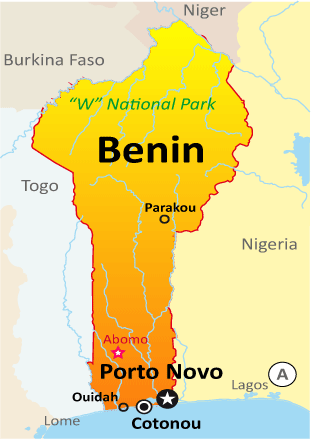 Map of Benin Africa
Benin Facts
Capital: Porto-Novo
Largest City: Cotonou
Official Language: French
Demonym: Beninese, Beninois
Government: Multiparty democracy
Currency: West African CFA franc (XOF)
Time zone: WAT (UTC+1)
Drives on the right
What to Do in Benin Africa
Porto Novo in Benin has a small royal palace; although this city is the capital, Cotonou) is the main commercial hub. The centre of Voodoo is Ouidah where you can visit the Temple of Pythons and hold the snakes in your hands, and visit the Sacred Forest. If that all sounds a bit spooky, you can enjoy the beach at Grand Popo, and go for a ride in a pirogue, a flat bottomed boat. Visit the ancient Royal Palaces at Abomey. Enjoy traditional music and dancing, and see the National Parks.
Benin Holidays Guide
Although the coast forms an obvious route, there is much to see inland. In Benin, the Royal Palaces at Abomo were the historical capital of the Fon people, and are a Unesco World Heritage Site. Buses are the best way to get around the region, and it's generally useful to be able to speak some French.
Benin borders with Togo and sightseeing both countries is often combined – a suggested itinerary is to travel along the coastline – this takes in both capitals and most major sights, with the occasional foray into the interior. Lome, Togo's capital, has excellent nightlife.