Ethiopia Holidays
Africa

Ethiopia is Africa's oldest independent country, and also the base for one of the world's oldest civilisations – which was a near-mythical source of myrrh for the Egyptians. There are a number of fascinating historical sights, some of which are unique in Africa. In modern day Ethiopia, the game reserves are probably the biggest attraction – you can see portly hippos, elegant flamingos, baboons and eagles. But even if you don't see all the animals on your list, the scenery is spectacular. Ethiopia is also noted for its cuisine – try the indigenous bread, injera, and doro wat, a chicken stew with boiled eggs. Ethiopia is perfect for those who want to go somewhere unusual, but safe, or for those doing overland trips through Africa.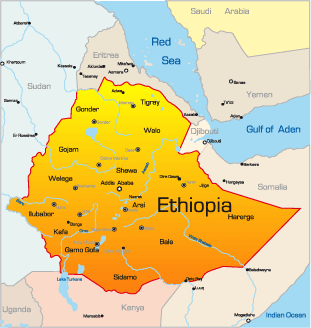 Map of Ethiopia Africa
Travel Facts
Capital: Addis Ababa Language(s): Amharic
Demonym: Ethiopian
Area: 1,104,300 km2 (27th)
Population: 82,101,998 (14th)
Currency: Birr (ETB)
Time Zone: EAT (UTC+3)
Drives on the: right
Airport: 6 km southeast of Addis Ababa City Centre and 65 km
north of Debre Zeyit January Temp : 16°C / Rain Days: 1
July Temp: 15°C / Rain Days: 11
What to Do in Ethiopia Africa
Addis Ababa is one of Africa's great shopping centres; you can buy pretty much anything in the Merkato – make sure you practise haggling before you go!You can also see Africa Hall, the UN's African HQ, the University and St George's Cathedral. In Gondar, there are some rare examples of European-style castles in Africa, built to house Ethiopian Emporers. The Rift Valley has a number of lakes – Lake Abaya is the largest, and Lake Shala the deepest. These are popular weekend destinations. You can also see the spectacular Blue Nile Falls, located near the vibrant city of Bahir Dar.
Ethiopia Holidays Guide
Addis Ababa is the obvious point of entry, but you should also visit Adama. Here you can enjoy hillwalking and soak in the hot springs of Sodere, Ethiopia's premier spa resort; there is also an Olympic sized swimming pool here.
At Harrar you can see ninety-nine mosques, and also witness the nightly hyena feeding – the locals give them porridge for dinner! Meleke is a good base for visiting the northern highlands, and Lalibela has some amazing medieval churches – hire a local guide to show you around them. You should also try to catch a traditional local coffee ceremony.
Ethiopia Accommodation
Whatever you do, you'll find plenty of hidden delights in this friendly and historical land.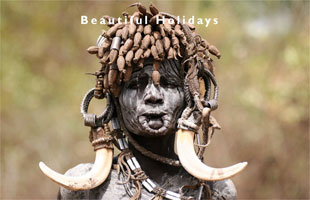 Scenery of Ethiopia
Ethiopia Highlights
Addis Ababa
Gondar
Axum
Debere Damo
Lalibela
Semien Mountain
Ras Dejen
Bale Mountains
Senaetti Plateau
Awash National Park