Kenya Holidays
Africa

If you'd love to go to Africa but are slightly nervous, Kenya is a great place to start. You can easily book packages to all-inclusive resorts on the coast, as well as safari tours on the plains, and mix your experiences of wild animals and tribal dances with rounds of golf and spa treatments. Some of the best game reserves in Africa are in Kenya; if you visit at the right time, you'll see the famous wildebeest migration across the plains. But Kenya isn't all about wildlife, or contained package resorts. Backpackers will be interested to know that the cities have with plenty of sights and excellent restaurants and nightlife.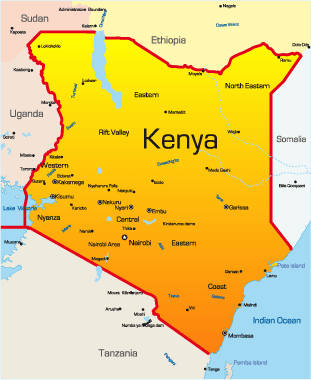 Map of Kenya Africa
Travel Facts
Capital: Nairobi
Language(s): Swahili, English
Area: 580,367 km2 (47th)
Population: 41,000,000 (33rd)
Currency: Kenyan shilling (KES)
Time Zone: EAT (UTC+3)
Drives on the: left
Airport: 15 km from Nairobi's CBD
January Temp : 26°C / Rain Days: 2
July Temp: 23°C / Rain Days: 8

What to Do in Kenya Africa
Some of Africa's most famous game reserves are in Kenya, including the Masai Mara Reserve. As well as a popular place to find big cats, you should drop in on the Masai Mara themselves – villages will arrange tribal dances and sell curios to visitors. If you visit at the right time of year, you can witness the amazing spectacle of thousands of animals migrating across the plains.
Kenya Holidays Guide
Coastal Kenya is also popular with visitors, with its white sands and laid back vibe. Nairobi is one of Africa's greatest cities, and you should visit the Independence Gardens and shop at the market – you can also visit the city's game reserve.

Mombasa is the main port of entry for many visitors heading to the coast. This popular seaside town has a fort, Hindu temples, and you can arrange a cruise on a dhow. Mombasa also has a pumping nightlife. If you're staying within the tourist centres and don't want to hire a car, then your tour company will be able to arrange trips and excursions – although, as ever, try to make sure your spending supports the locals and cuts out the middle-men. If you're a backpacker, you may enjoy getting off the beaten track – the north of the country sees few tourists, and you can make a trip to one of the lesser-visited game reserves.
Kenya Accommodation
Although Kenya has had its troubles in the recent past, it's now firmly re-opened for tourism, and is one of Africa's premier destinations.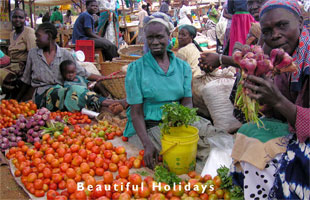 Market Scene of Kenya
Kenya Highlights
The Masai Mara
Lamu
Lake Nakuru National Park
Mount Kenya
Amboseli National Park
Lake Turkana
Lewa Wildlife Conservancy
Tsavo National Parks
Malindi and Watamu
Samburu, Shaba and Buffalo Springs National Reserves