Namibia Holidays
Africa

Namibia has a lonely beauty, and a fascinating history. Famous for it's sand dunes and lonely coastline, there are also some idiosyncratic remains left by early European settlers. Once a German colony, you can find Mitteleuropean-style buildings hidden in the vast desert, and women of the Herero tribe still wear dress similar to that of 19th century German missionaries.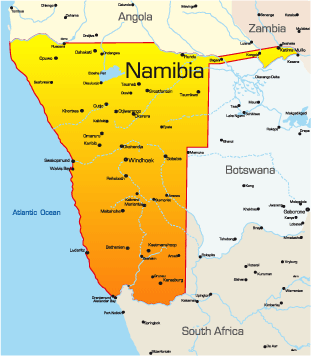 Map of Namibia Africa
Travel Facts
Capital: Windhoek
Language(s): English
Area: 825,418 km2 (34th)
Population: 2,108,665 (142nd)
Currency: Namibian dollar (NAD)
Time Zone: WAT (UTC+1)
Drives on the: left
Airport: 42 km east of Windhoek
January Temp : 18°C / Rain Days: 0
July Temp: 14°C / Rain Days: 0

What to Do in Namibia Africa
Windhoek, Namibia's capital, is a surprisingly cosmopolitan town, with a handful of sights. Swakopmund is the main Namibian coastal town – come here to enjoy trendy sports like sandboarding and skydiving. Sossusvlei is the gateway to the Namibian desert, with its enormous sand dunes – up to 450m high – some of which can be climbed.
Namibia Holidays Guide
The northern Skeleton Coast was much feared by sailors – the wrecks of many ships are washed up along the haunting beaches. If you're into long-distance hikes, then try the 85km trail along the spectacular Fish River Canyon.
There are several routes through Namibia. If you're doing an overland trip through Africa, the chances are that you'll arrive through the Caprivi Strip in the north, the only green area of Namibia and part of the country through colonial-era horsetrading.
Luderitz is a German town near the south of the country. Try the local lobster, visit the ghost town of Kolmanskop, and, if you're lucky, you'll see the world's only wild desert horses – no-one knows exactly how they came to be living here. Further north, the extraordinary medieval-style Duwisib Castle was built by an eccentric German count.
Namibia is an increasingly popular destination, but that's all relative. Most of the time you'll be travelling on a long, straight roads with no other cars in sight; your only company will be a handful of springbok pronking in the middle distance. Namibia is best suited for independent travellers, although self-drive packages can be arranged. Plan carefully because of the long distances and infrequent towns.