Egypt Holidays
Africa

One of the world's oldest civilisations, Egypt is full of wonders. You can marvel at famous Ancient Egyptian sites, including the Pyramids, the Sphinx, the treasures at the Museum of Egyptian Antiquities and the fabulous temples. Mount Sinai is – relatively speaking! – a new attraction, but attracts pilgrims from all over the world.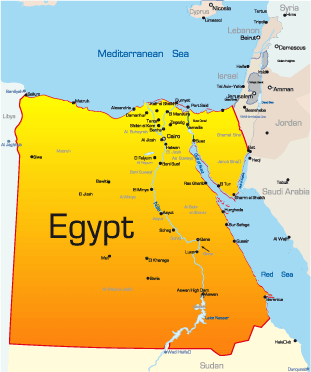 Map of Egypt Africa
Travel Facts
Capital: Cairo
Language(s): Arabic
Demonym: Egyptian
Area: 1,002,450 km2 (30th)
Population: 80,085,862 (16th)
Currency: Egyptian pound (EGP)
Time Zone: EET (UTC+2)
Drives on the: right
Airport: 15km northeast of Cairo CBD
January Temp : 13°C / Rain Days: 1
July Temp: 28°C / Rain Days: 0

What to Do in Egypt Africa
Egypt has a very well developed tourist industry; Classical-era Greeks were amongst the first tourists – and is one of the world's premier destinations. But they didn't have access to the modern Red Sea resorts – these are particularly noted for diving, but excellent places for swimming and snorkelling, or merely lazing on the beach. They are excellent for family holidays.
Visit busy, bustling Cairo. Once you've got over the culture shock, visit the sights and enjoy the city's nightlife. The traditional way to see the major sights outside the capital is to take a cruise down the Nile. See Luxor, a great base to see fabulous Valley of the Kings, the Temple of Karnack, and the Western Valley Ruins. You may want to take a cruise that goes south to the mighty Aswan Dam. Hurghada and Sharm-el-Sheik are the busiest seaside resorts – both attract visitors from all over Europe, and have practically year-round sunshine.
Egypt Holidays Guide
Egypt is mainly noted for Nile Cruises, ancient wonders, and Red Sea resorts. However, you can also visit Egypt's Mediterranian Coast; base yourself at Alexandria to enjoy it's fabulous new Biliotheca.
The Sinai peninsula is more laid back than 'mainland' Egypt. Try hiring a local guide to take you on hiking trails, and there are numerous 'alternative' activities availabe, including at yoga retreats. At the magical Siwa Oasis, you can explore the desert by arranging a Berber guide, or by booking a jeep safari.