Botswana Holidays
Africa

The chances are that your first encounter of Botswana will be through the Mma Ramotswe novels. And, just like in the books, people in Botswana are warm and friendly; you should definitely try to catch a display of traditional dancing and singing. Botswana's other famous inhabitants are its animals – depending on which region you visit, you can see cheeky meerkats, ponderous hippos, majestic elephants and sinister crocodiles. There are several ways to experience Botswana – there are various packages available, while it's also a safe and stable country for independent travellers to explore at their leisure.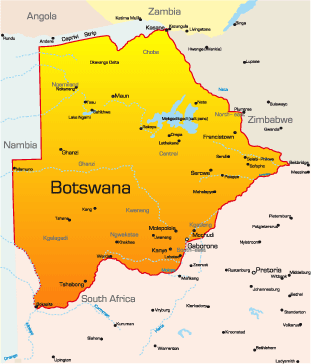 Map of Botswana Africa
Botswana Facts
Capital: Gaborone
Language(s): English, Setswana
Demonym: Batswana
Area: 581,730 Km2 (47th)
Population: 2,029,307 (144th)
Currency: Pula (BWP)
Time Zone: Central Africa Time (UTC+02)
Drives on the: left
Airport: 15 km north of Gaborone
January Temp : 26°C / Rain Days: 6
July Temp: 15°C / Rain Days: 0

What to Do in Botswana Africa
The Okovango Delta in northern Botswana is one of the most popular areas for wildlife viewing. River taxis operate on some of the major waterways, and you can explore the waterways of the Moremi Game Reserve on a mokoro, a dug-out canoe which is poled along by a guide.
Botswana Holidays Guide
Although development within the area is controlled, there are numerous campsites and lodges for you to choose from. In other areas, particularly the more arid regions, you can enjoy quad biking and horse riding safaris. One of Botswana's rarest creatures is the black-maned lion – if you're lucky, you'll see one in the Kalahari region.
Gaborone is the capital of Botswana, and one of the main entry points – buses travel here from Johannesburg and Windhoek. Here you can shop for souvenirs in the mall, and enjoy a taste of a modern city before venturing into the Botswana hinterlands. If you don't have long to stay in Botswana, there are a number of game reserves that you can visit from the city. You can also do day excursions to traditional homesteads, and chill out at the St Clair Lion Park; a popular spot for Botswanans, the park features a flock of Cape Vultures, which are fed daily, and numerous outdoor activities.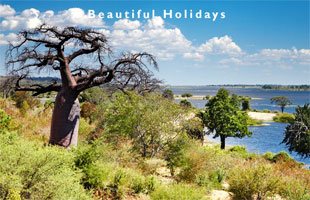 Typical Scenery of Botswana
Botswana Highlights
Chobe National Park Okavango Delta
Gaborone
The National Museum and Art Gallery
Kalahari Desert
Walking Safari
Mokoro
Serowe
Lobatse
Botswana Accommodation
And if all the excitement gets too much, do what Mma Ramotswe would recommend and enjoy a cup of tea at a local café, and watch life go by.