Thailand Holidays & Accommodation Guide
Southeast Asia

Thailand has great beaches, exotic temples and is one of the world's top destinations to have a good time. A popular entry point to South East Asia for backpackers, it also attracts package tourists to its beach resorts, and is a popular stopover destination for travellers going between the Antipodes and Western Europe. Young people in particular are attracted to Thailand for its legendary party scene. Thai cuisine, whether it's from a street stall or a fancy restaurant, is excellent and its popularity has spread across the world – although you're unlikely to get anything like the quality of the dishes at home as you can at source.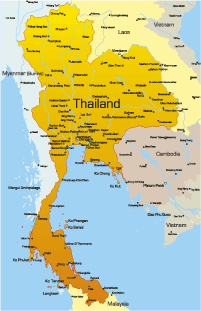 Map of Thailand Asia
Thailand – Regions or Cities to Visit
Thailand Holidays Planner
Bangkok is the most obvious place to start. There are shrines, temples and cathedrals, markets, including the famous night market at Patpong. Speaking of Patpong, visitors are often drawn to the city's wild pub and club scene – gay or straight, young or old, there's a good time to be had here. Just don't do anything too dodgy! Thailand also has numerous seaside resorts. Pattaya is one of the biggest, and is popular with all kinds of groups and has numerous amusements, museums, temples and great beaches. However, it's also a major hub for sex tourism, so is not going to be everyone's cup of tea.
Southern Thailand is also famous for its coastal resorts. Phuket is the most famous, and activities like fishing, canoeing, and snorkelling are immensely popular here. The island of Ko Samui has always been attractive to bohemian types, and has superb beaches. Ko Pha Ngan is the venue for Full Moon Parties. The north of Thailand is less hedonistic and touristy. Visit Khmer temples and the City of Ching Mai, with its ancient castle and numerous sites within its old city. You can also take a trip to the Opium Museum in the Golden Triangle, which is the biggest tourist site in the north.
Thailand Travel Info
Whether you're interested in culture and religion, or just want to have a good time, you'll enjoy Thailand.