Maldives Holidays & Accommodation Guide
South Asia

The Maldives are a byword for luxury and pleasure. Made up of hundreds of low lying coral islands off the coast of India, they are a fascinating mixture of several different cultures, including Arabic and Indian. They offer beautiful beaches, clear skies and crystal seas. The Maldives are expensive, and most tourists stay in full-board luxury resorts; there are few budget options. The Maldives are therefore great for a once-in-a-lifetime blowout, like a honeymoon, although they are also popular with divers and with families. As you'd expect given the Maldives' location, the cuisine revolves around fresh fish and curries.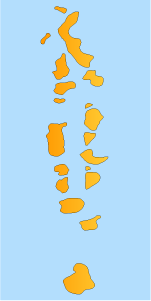 Map of Maldives Asia
Maldives – Regions or Cities to Visit
Islamic Centre
Male
Mohammed Thakurufaanu Tomb
Thinadhoo
Fuvammulah Or Fua Mulaku
Kudahuvadhoo
Maldives Holidays Planner
The capital, and location of the main airport, is at Male. Before you head off to your resort, have a look at the mosque, Independence Square, and consider taking a boat ride to Hulhumale Island, an artificial island with restaurants, cafes and a good beach. You can also take a ride in a submarine – either to spot whale sharks, or purely for the novelty value. Male Market is the best place to buy souvenirs, and is certainly cheaper than the resorts – remember to haggle! Hithadoo, on Addu Island, is a developing tourist centre with a recently expanded airport.
Much of your experience in the Maldives depends on the resort you choose; although there are some independent guesthouses in Male, there are few on the islands. All of resorts offer swimming and snorkelling and you should be able to see any number of brightly coloured fish. Some resorts specialise in diving, romance, spas, and pure luxury, and some offer services mostly in one specific language; do your research carefully before you choose. The highest point throughout the entire chain of islands is a mere 2.3 metres and apart from Male town, there's little to do except lounge on beaches and explore the lagoons. It's also worth noting that the Maldives is a very Islamic nation. Although the resorts have a laissez faire attitude to alcohol and dress, you should dress and behave accordingly (ie, cover up and don't drink!) when visiting Male or any other cities.
Travel Tips
Capital: Male
Language: Dhivehi
Demonym: Maldivian
Land Area: 298 km2 (206th)
Population: 396,334 (176th)
Currency: Maldivian Rufiyaa (MVR)
Time Zone: (UTC+5)
Airport: located on Hulhule Island
January Temp : 27°C / Rain Days: 3
July Temp : 28°C / Rain Days: 8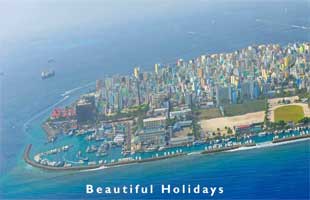 Male Town