Philippines Holidays & Accommodation Guide
Southeast Asia

The Philippines are unlike anywhere else in either the Pacific or Asia. A legacy of Spanish colonialism means that the Philippines are a strongly Catholic nation; the location of the 7,000 islands that make up the Philippines, and a 30 year American occupation, mean that the food is a fascinating mix of east and west; fried breakfasts, noodles, empanadas and rice cake all form part of the national cuisine. As you'd expect from an island nation, there are plenty of seaside activities and beaches. There are also spas, cave complexes, and the Philippines is a leading destination for medical tourism.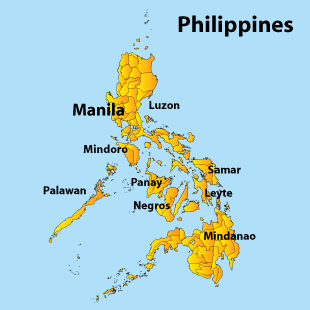 Map of Philippines Asia
Philippines – Regions or Cities to Visit
Fort Santiago
Moluccas
Rizal Park
Mount Apo
Cultural Center of the Philippines
Manila
Manila Cathedral
Basilica of San Sebastian
Coconut Palace
Fort San Pedro
Philippines Holidays Planner
Manila is the capital of the Philippines; a densely populated, bustling city. Stroll along the Baywalk to see the beautiful sunset, take in Intramuros, the walled city and go shopping in Chinatown. There are also numerous religious sights – the most significant are probably the statue of the Black Nazarene, said to having healing powers, and Manila's impressive cathedral. Trendy Malate has great nightlife. Outside the city, there are numerous beach resorts. Boracay has beautiful white sands, boat excursions, diving and a range of other activities. Puerto Galera is closer to Manila, while Pagapud has both beaches and the unique Bantay Abot cave, where you can escape from the sun, and nearby Timmantang Rock, said to be the male equivalent of the cave.
Although the extensive beaches and resorts are the main attractions of the Philippines, you should also see some of the historical and cultural sights. Vigan is a beautiful Spanish Colonial town, with an ornate cathedral. The rice terraces at Banaue are more impressive than they sound; layers and layers of rice fields climbing the sides of steep valleys. Bohol has a clutch of impressive attractions; tarsiers, which are tiny and endangered monkeys, the Chocolate Hills, which look as though (but sadly, don't taste as if), they're made from cocoa, and Baclayon, which has numerous historical attractions.
Travel Tips
Capital: Manila
Language: Filipino, English
Demonym: Filipino / Filipina
Land Area: 299,764 km2 (72nd)
Population: 94,013,200 (12th)
Currency: Peso (PHP)
Time Zone: PST (UTC+8)
Airport: 8 km south of Manila city center
January Temp : 26°C / Rain Days: 3
July Temp : 27°C / Rain Days: 13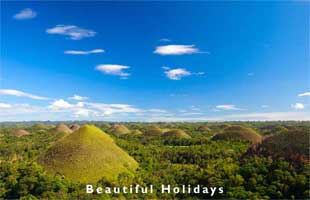 Bohol-Chocolate Hills
Philippines Travel Info
The best way to get into and around the Philippines is by planes, but there are several cruise operators that sail around the islands.