Vietnam Holidays & Accommodation Guide
Southeast Asia

Vietnam is a strangely shaped country, compared to some like the shape of a yoke with rice pails on either end; women carrying these are a common sight in the country. Although Vietnam is associated with war and has a turbulent past, it's now a perfectly safe place to visit and is particularly popular with backpackers. Vietnamese food is a unique mixture of the French colonial legacy and indigenous cooking techniques. Baguettes and pastries are popular, but the national dish is pho, a beef or chicken noodle soup. To experience a national festival, try visiting during Tet, the New Year celebrations.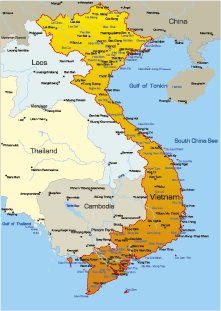 Map of Vietnam Asia
Vietnam – Regions or Cities to Visit
Hanoi
Ho Chi Minh City
Ha Long Bay
Ban Gioc Falls
Annamite Chain
Phong Nha-Ke Bang National Park
Can Gio Mangrove Forest
Da Nang
Cao Dai
TOPIO
Vietnam Holidays Planner
Visit Hanoi, Vietnam's capital. You can see the mausoleum of Ho Chi Minh, and an associated museum. There are also numerous other museums, appealing parks, and several temples. Wartime sites also pull in tourists – you can see what remains of the infamous 'Hanoi Hilton' prison, and the wreckage of a B52 lying in a lake. At Ho Chi Minh City, formerly Saigon, you can visit a Vietnamese hair salon, visit the enormous Dai Nam Tourist Park, and, close to the city, the Cu Chi tunnels. Here you can, if you wish, try out a machine gun at the firing range.
Aside from its fascinating cities, Vietnam has a number of beach resorts. Phan Thiet and Nha Trang are the best known, and feature all the usual beach vacation activities. The Cuoc Phong National Park is the best place to see rare animals; if you're lucky, you could see bears, wild dogs or even tigers. The My Son temple complex is an atmospheric ruin, and a Unesco World Heritage Site. A popular destination, you can see traditional dancing displays and try kayaking on the lake here too. Get off the beaten track by visiting the Central Highlands. Visit the lakes around Da Lat, and the former imperial palaces.
Travel Tips
Capital: Hanoi
Language: Viatnamese
Demonym: Viatnamese
Land Area: 331.698 km2 (65th)
Population: 90,549,390 (13th)
Currency: đồng (VND)
Time Zone: ICT (Indochina Time) (UTC+7)
Airport: located  in Tin Binh District
January Temp : 26°C / Rain Days: 1
July Temp : 27°C / Rain Days: 15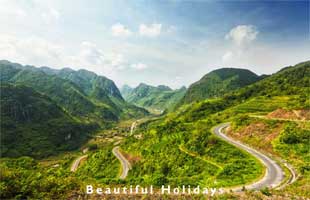 Ha Giang Mountains