China Holidays & Accommodation Guide
East Asia

China is one of the world's biggest nations, and also the most populous. Within that enormous area and staggering mass of people is enormous diversity. There are mountains, grasslands, miles and miles of coastline, busy cities and backwater villages all waiting to be discovered. Cuisine is also tremendously – most Westerners know that Szechuan food is a bit spicy, but that's only the smallest tip of a very big iceberg. Many visitors come on package trips to see big tourists sights, but China is also popular with backpackers and those interested to see where their families originated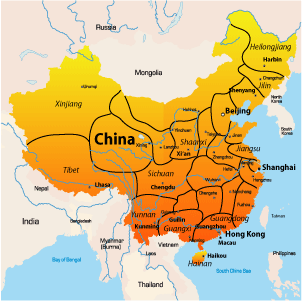 Map of China Asia
China – Regions or Cities to Visit
China Holidays Planner
Beijing is the most obvious point to start. The city is enormous, but you can visit the iconic Bird's Nest Stadium, the Forbidden City, Tianamen Square and Mao's Mausoleum. You can travel to the Great Wall of China in around two hours; if you're going on a trip that involves walking along the wall, remember that all those slopes and dips that look impressive in pictures are quite tiring in real life, and wear comfortable shoes. Xi'an, the traditional end of the Silk Road and the home of the famous terracotta warriors, is an overnight train journey from Beijing.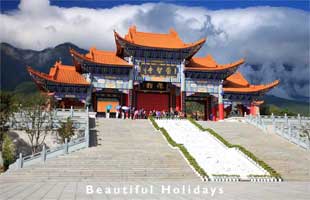 South-Yunnan-Dali-Chongsheng Monestry-Largest
Highlights and Icons
Everest Base Camp
Suzhou Gardens
Lake Nam
The Great Wall of China
Eastern Tibet and Lake Basam
Tiger-Leaping Gorge
Mount Gongga

Shanghai is another entry point into China, and arguably the country's most commercialised city. Explore the Pearl Tower and the French Concession. In Nanjing, visit the Confucious Temple, the ruins of the Imperial Palace, and the parks and mausoleums of the Purple Mountain. Guilin has spectacular mountainous scenery, impressive caves and numerous parks. Kunming is one of the most ethnically diverse cities in China, and has temples and museums – take a trip outside the city to the fascinating Stone Forest, a UNESCO heritage site. If you'd want to get out of the cities and see some wildlife, then the Jiuzhaigou Nature Reserve is the best place to see pandas in their natural environment.
Travel Tips
Capital: Beijing
Language: Mandarin
Land Land Area: 9,640,011 km2 (3rd)
Population: 1,339,724,852 (1st)
Currency: Chinese yuan (renminbi) (CNY)
Time Zone: China Standard Time (UTC+8)
Airport: 30km east of Shanghai
January Temp : -3°C / Rain Days: 2
July Temp : 26°C / Rain Days: 10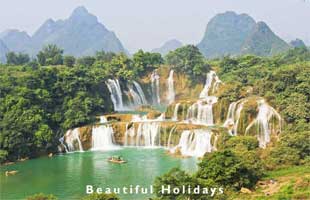 South-Guangxi-Detian Waterfall-Border Vietnam