Singapore Holidays & Accommodation Guide
Southeast Asia

Wealthy Singapore is a city state full of skyscrapers; a financial hub as well as one of the world's major ports. Formerly a British colony, no one culture prevails in Singapore; instead the city is an exotic mixture of colonial, Malay, Indian and Chinese influences. The food is an excellent mixture of the latter three. Singpore has numerous gold courses, swimming pools and hosts an annual Formula 1 Grand Prix. It's also a fabulous destination for shopping; you can buy anything and everything here, but tailored clothes, electronics and video games are particularly popular. Singapore is famous for its strict zero-tolerance policy on minor offenses and has been accused of being somewhat staid; the government are keen to shake off this image.
Map of Singapore Asia
Singapore – Regions or Cities to Visit
Merlion
Singapore Zoo
Esplanade – Theatres on the Bay
Downtown Core
Singapore River
Raffles Hotel
Singapore Flyer
Sri Mariamman Temple
Singapore Botanic Gardens
National Museum of Singapore
Singapore Holidays Planner
Start your visit to Singapore with a trip to the Riverside District. There are two famous statues here – one of Merlion, the symbol of the city and an odd mixture between a lion and a fish, and one of Raffles, Singapore's founder. The most famous place to stay is the nearby Raffles Hotel; even if you can't afford the hotel's five star colonial luxury, you should definitely have a Singapore Sling at the bar before heading out to one of the numerous nearby eateries and pubs – you're sure to have a grand time. If you feel like shopping, head to nearby Orchard Road with its miles of shopping malls.
Chinatown is also a popular destination, for its restaurants, bars, shopping malls and temples. Little India does what Chinatown does but with Indian attractions, and also has the bulk of Singapore's budget accommodation. Bugis is the main Muslim district; visit here to see mosques, flea markets and bazaars, and to grab a shish kebab. Sentosa, a somewhat kitsch island just off the coast of Singapore, has been redeveloped in recent years; there are beaches, a Universal Studios theme park, and numerous museums. Marina Bay is a glitzy place to gamble, and has a cool casino, theatres and also the world's highest observation wheel, similar in design to the London Eye.
Travel Tips
Capital: Singapore
Language: Malay, Chinese, Tamil
Demonym: Singaporean
Land Area: 694 km2 (191st)
Population: 5,076,700
Currency: Singapore dollar (SGD)
Time Zone: SST (UTC+8)
Airport: 17.2 km northeast from the commercial centre in Changi
January Temp : 26°C / Rain Days: 10
July Temp : 27°C / Rain Days: 9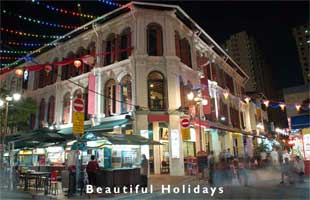 Singapore China Town