Laos Holidays & Accommodation Guide
Southeast Asia

Laid back Laos is one of the few landlocked countries in South-East Asia, and also one of the poorest. Those who are into outdoor and extreme sports will find plenty to entertain them; trekking, boating and tubing – floating down rivers in rubber tubes – are popular activities. Backpackers will enjoy the bohemian atmosphere of the cities, the low living costs and Beer Lao, one of the best beers in the world. Lao food is similar to Thai, but some French influenced items are also popular, including baguettes. The local firewater is lao-lao, made from distilled rice wine.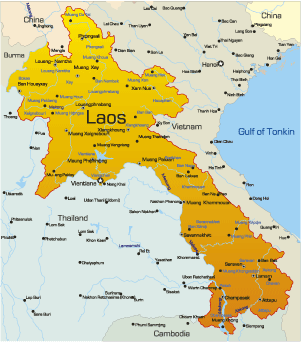 Map of Laos Asia
Laos – Regions or Cities to Visit
Pha That Luang
Patuxay
Buddha Park
Wat Si Muang
Haw Phra Kaew
Lao National Museum
Talat Sao
That Dam
Wat Si Saket
Thai-Lao Friendship Bridge
Laos Holidays Planner
Vietiane is Laos' capital, and main transport hub. There's a Lao interpretation of the Arc de Triomph, numerous museums and temples, and some parks. However, the main attraction is the chance to chill out and watch life go by. Luang Prabang has more to see, however, and is a Unesco World Heritage Site. In the morning, you can watch hundreds of monks proceed through the streets to collect alms. You should also visit the Kuang Si Falls – take your swimming gear, as many of the pools are suitable to bathe in. The Pak Ou caves are filled with Buddhas – get a boat up the Mekon to see them.
Outside of the two main cities, there are numerous other attractions. Pakse is a great base to see several attractions. These include the Bolaven Plateau and Si Phan Don, the 'Thousand Islands' in the Mekon river; take a boat tour here, chill out and have some more beer. The Konglar Cave should not be missed – a long underground river, that opens up into a beautiful valley; the Cave is included in "the loop", which is a circular route that usually begins and ends at Tha Khaek. Although Laos is very laid back, it's also a communist country and you should avoid criticising the regime.
Travel Tips
Capital: Vientiane
Language: Lao
Demonym: Laotian, Lao
Land Area: 236,800 km2 (83rd)
Population: 6.8 million (101st)
Currency: Kip (LAK)
Time Zone: (UTC+7)
Airport: located 3 km outside Vientiane
January Temp : 24°C / Rain Days: 0
July Temp : 28°C / Rain Days: 8
Luang Prabang