Pakistan Holidays & Accommodation Guide
Central Asia

Pakistani cities are fascinating and hold some major historical and cultural attractions. However, the countryside is arguably more of a draw to Pakistan. You can try trekking across mountains, visiting remote hill stations and, in the south, enjoy beaches, swimming and diving. Pakistan has long been popular with overland travellers as it forms part of the Silk Road from Istanbul to Beijing – even if you're not doing the entire route, you still may want to travel along the Karakoram Highway, which is a spectacular route over the Himlayas. Pakistani food is generally excellent, with grilled meat, flatbreads and dhals all popular.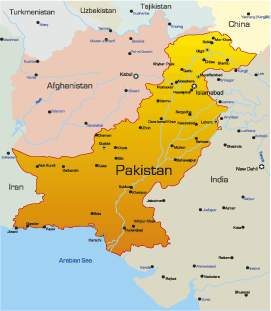 Map of Pakistan Asia
Pakistan – Regions or Cities to Visit
The Harappa
The Clifton Beach
Shah Faisal Mosque
Indus River
Rawal Lake
Mohabbat Khan Mosque
Skardu
Mazar-e-Quaid
Merewether Clock Tower
Pakistan Holidays Planner
Islamabad is a great place to start. The capital since 1963, Isamabad is quieter and more laid back than many cities in the region. There are numerous museums and parks to keep you occupied, and Islamabad is an excellent destination if you are interested in hillwalking. Lahore is the second-largest and is particularly worthwhile for its historical attractions – visit the fort and the gates of the walled city. Karachi is a bustling port city and has many excellent attractions – go to the beach, visit one of the many spas and amusement parks, and haggle in the markets.
Outside the main cities, Skardu is a particular highlight, with its beautiful and peaceful lakes, valleys and mountains. You can also see some Buddha rock carvings near by, which are more than a thousand years old. Pakistan has had a torrid time in the last few years, with floods and political unrest; Pakistan's situation is much improved, however, check your route against the latest travel advice before you leave. Although Pakistan is mostly safe you'd be well advised to avoid the border area with Afghanistan; this is a no-go area for most travellers.
Travel Tips
Capital: Islamabad
Language: Urdu
Demonym: Pakistani
Land Area: 796,095 km2 (36th)
Population: 170.6 million (6th)
Currency: Pakistani Rupee (PKR)
Time Zone: PST (UTC+5)
Airport: located outside of Islamabad, in the area of Chaklala Rawalpindi
January Temp : 9°C / Rain Days: 3
July Temp : 29°C / Rain Days: 8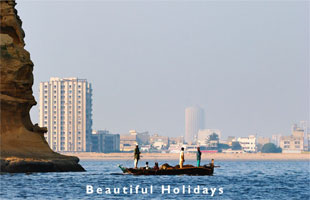 Pakistan Karachi