Indonesia Holidays & Accommodation Guide
Southeast Asia

Indonesia is one of the world's greatest places for a vacation, and is an exotic holiday paradise. If you want a seaside holiday, there are miles and miles of amazing beaches, some of the world's best snorkeling and diving, and plenty of opportunities for sailing, surfing and any other seaside sports. If you're into history and culture, then there are beautiful and ornate temples, fascinating tribal cultures and you'll have the chance to find out more about Indonesia's rich history. If you want to have an adventure, and then seek out the Komodo dragon and numerous other marvelous creatures, climb to the top of a volcano and trek around remote jungles.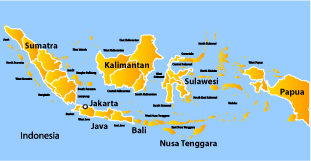 Map of Indonesia Asia
Indonesia – Regions or Cities to Visit
Indonesia Holidays Planner
Bali is Indonesia's most famous holiday destination. It's perfect for everyone, and there are lots to see and do here. Lombok is less famous than Bali and is less developed, but shares many of the same attractions – it's perfect if you're looking for a secluded honeymoon destination, and is also popular with backpackers. The main island of Java has the bewildering metropolis of Jakarta. It also has the two great temples of Borodubur and Pramanan, which should feature highly on your itinerary. Yogyakarta is more sedate than Jakarta; it's a great base for visiting temples and has many sights of its own.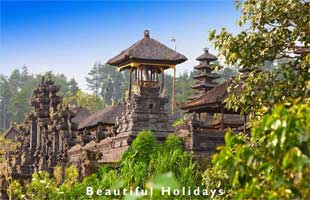 Bali-Besaki Temple
Highlights and Icons
Java Man
Mount Semeru & Mount Bromo
Madakaripura Waterfall
Tropical Rainforest
Heritage of Sumatra
Gunung Leuser National Park
Baiturrahman Grand Mosque
Mother Temple of Besakih

It's fairly easy to combine a beach holiday with cultural sights on Java, which is also the main gateway to Krakatoa, whilst Bali and Lombok have everything you need to a relaxing time. Komodo is more remote – the entire island is a wildlife park, and there are some amazing creatures to see. But don't forget about some of the more remote parts of this vast country. Sulawesi, Maluku and Irian Jawa are perfect if you want to dive in pristine waters and escape other holidaymakers. Sumatra and Kalimatan are remote paradises, and if you want adventure, you'll find it here. Indonesia is a Muslim country – you'll be fine in the big towns and resorts, but if you're venturing into remote villages, check up on local customs before you go.
Travel Tips
Capital: Jakarta
Language: Indonesian
Land Area: 1,919,440 km2 (15th)
Population: 237,556,363 (4th)
Currency: Rupiah (IDR)
Time Zone: various (UTC+7 to +9)
Airport: 20 km west of Jakarta
January Temp : 26°C / Rain Days: 9
July Temp : 27°C / Rain Days: 2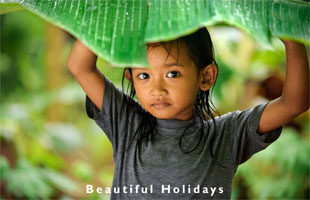 Indonesia-Child