Sri Lanka Holidays & Accommodation Guide
South Asia

Sri Lanka is a tear shaped island, off the southern coast of India, formerly known as Ceylon. While Sri Lanka's recent past has been scarred by war, the conflict ended in 2009. Since then, Sri Lanka's tourist market has been growing – and little wonder. Sri Lanka's tropical climate, combined with its beautiful beaches, temples and wildlife watching opportunities mean it's a natural holiday spot. There are also opportunities to take part in extreme sports, cool hill stations and pristine national parks. Tourism is one of Sri Lanka's main industries and the number of visitors is growing; you can travel here both independently and through a package operator.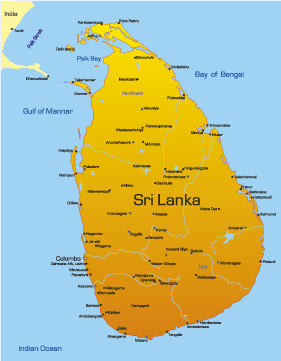 Map of Sri Lanka Asia
Sri Lanka – Regions or Cities to Visit
Dehiwala Zoo
Gangaramaya Temple
Anuradhapura
Mihintale
Sigiriya
Arugam Bay
Bambarakanda Falls
Trincomalee
Sri Lanka Holidays Planner
The centre of Sri Lanka, both spiriturally and geographically, is Kandy. One of Buddha's teeth is in an elaborate temple here, in an ornate casket. You can also a visit an elephant orphanage to have your heart melted by the bonsai jumbos – try to schedule your visit for feeding time. There's also an enormous Buddha at Bahirawakanda temple. Colombo is the capital and has Sri Lanka's main airport. Stroll along Galle Face Green Promenade in the evening, and visit the National Museum. Colombo has numerous restaurants, and nearby Mount Lavinia is a centre for nightlife.
Most visitors combine a trip to Kandy with one of the beach resorts; Beruwala and Negombo are handy for Colombo. Galle is an old Dutch colonial village and has various temples and a fort; it is an increasingly trendy place to stay. Yala National Park is one of Sri Lanka's highlights and has numerous wild animals. The north of Sri Lanka was a Tamil Tiger stronghold and was badly affected by the civil war. Jaffna, the main city, is a former beach resort – if you visit, be careful because of the risk of landmines. A safer way to escape the crowds is to visit the east of the island.
Travel Tips
Capital: Sri Jayawardenapura Kotte
Language: Sinhala, Tamil
Demonym: Sri Lankan
Land Area: 65,610 km2 (122nd)
Population: 20,238,000 (53rd)
Currency: Sri Lankan Rupee (LKR)
Time Zone: Sri Lanka Standard Time Zone (UTC+5:30)
Airport: 35 km north of Colombo
January Temp : 26°C / Rain Days: 2
July Temp : 27°C / Rain Days: 0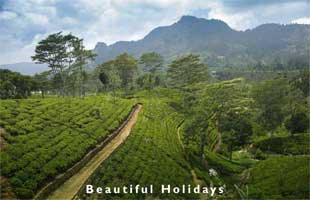 Nuvara Ellia -Tea Plantation
Sri Lanka Travel Info
As well as by air, Sri Lanka can be reached by ferry from India.