Yemen Holidays Guide
The Midddle East

Yemen is very different to many of the other countries on the Arabian Peninsula. Although it may lack the glitz and glamour of the Emirates or Qatar, there's a lot for an adventurous traveller to see in see in Yemen. A vast country, Yemen has miles of virtually untouched coastline, a forbidding desert region and many fascinating cities. If you want to get down with the locals, try chewing some qat, a mild stimulant which half the nation appears to be hooked on! Yemini cuisine is also delicious, and very different to the food served elsewhere in the region.
Map of Yemen
Yemen
The Rock art of Sa'da
Socotra Island
The Incense Road
Wadi Dhahr
Shibam
The Shihara Suspended Bridge
Souk of Beit Al-Faqih
Old City of Sana'a
Aden City
Kawbakan City
Yemen Holidays Planner
Yemen's ancient capital city, Sana'a, is full of remarkable architecture. Bab al-Yemen, the gate leading to the Old City, is one of the most important landmarks.
You can also visit the Great Mosque, one of the oldest in the world, and see the nearby Rock Palace of Yemen, a truly remarkable structure. Pretty Aden, the largest coastal city, has beaches and the best nightlife in Yemen – it's also a centre for bird watching and fishing. Al Hudayda is another coastal town and has fewer tourist facilities than Aden, but is an excellent base to experience the unspoiled coast.
While the coast and the major cities are fascinating in their own right, the Yemeni Highlands have some truly amazing historic towns, built to withstand desert raiders.The truly adventurous should head into the Empty Quarter, where only nomads live – however, you need to be well-prepared and experienced to even think of this. Yemen is not entirely stable at the time of writing, and you should check news reports and your governments' travel advice before venturing into the country.
Travel Facts
Capital: Sana'a
Language(s): Arabic
Demonym: Yemeni, Yemenite
Area: 555,000 km2 (50th)
Population: 23,580,000 (51st)
Currency: Yemeni rial (YER)
Time Zone: (UTC+3)
Drives on the: right
International Airport: located in Sana'a
Weather Jan: Av Temp: 26°C / Rain Days: 0
Weather July: Av Temp: 33°C / Rain Days: 0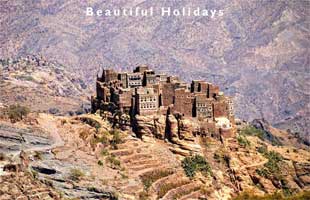 Yemen Desert