Jordan Holidays Guide
The Midddle East
Jordan's ancient ruins and fascinating, conflict-ridden history belie its modern day safety and peacefulness, and liberal regime. The historical sights are breathtaking, and include important religious places, ancient, stone carved cities and Crusade-era castles. Jordan's cities are also well worth a visit. Apart from containing their own historical sights, they are also lively destinations filled with bars, nightclubs and restaurants of all kinds. On that subject, the indigenous food is pretty good too – hummous, falafel, kebabs and the national dish mansaf, made from lamb, bread and rice. If that all sounds too energetic, then try a trip to the Dead Sea, where you can float in the water while reading a book or paper.
Map of Jordan
Jordan
Jordan River
Mt. Nebo
Dead Sea
Petra Archaeological Site
Dana Nature Reserve
Wadi Mujib Nature Reserve
Quseir Amra Desert Castle
Aqaba Beach And Resort
Jerash
Karak
Jordan Holidays Planner
The main tourist destination is Petra. Even if you haven't heard of it before, the stone facades of this ancient city will be instantly familiar from Indiana Jones and the Last Crusade. If you don't want to walk around the city, get a camel. Petra is also an excellent destination for hiking enthusiasts, as there are a number of trails around the city.
Amman is Jordan's capital, and an excellent place to begin if you're flying into the country. There are some Roman remains, a citadel and a thriving night life and cultural scene. To see more of the Jordanian countryside, visit Dana Nature Reserve, the spectacular Wadi Rum, or journey around the eastern desert to see the five castles scattered around the area. You might also pass through Aqaba, which is a seaside town – enjoy the beach and swimming. You can also get a ferry from here to Sinai in Egypt, which is useful if you're doing an overland trip and want to avoid Israel.
Another top destination is Kerak to see a Crusader castle. While the interior has seen better days, it has an impressive situation above the town. If you'd like to see how the other side lived, Aljun has an Islamic medieval fortress, built to defend against the Christian Crusaders.
Travel Facts
Capital: Amman
Language(s): Arabic
Demonym: Jordanian
Area: 92,300 km2 (111th)
Population: 6,407,085 (102nd)
Currency: Jordanian dinar (JOD)
Time Zone: (UTC+2)
Drives on the: right
International Airport: Zizya, 32 km south of Amman
Weather Jan: Av Temp: 8°C / Rain Days: 7
Weather July: Av Temp: 26°C / Rain Days: 0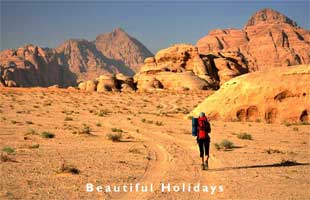 Jordan Desert