Saudi Arabia Holidays Guide
The Midddle East

Saudi Arabia is the centre of pilgrimage for Muslims, who are expected to complete the Hajj to Mecca at least once in their lifetimes. For most Europeans and Antipodeans, Saudi Arabia is an unusual destination, and one well worth experiencing. A country of scorching sun and cool desert nights, the Kingdom is a place where few Western travellers have ventured. The main attractions are different depending on your religion – for Muslims, Mecca and Medina will be highlights, while non-Muslims are not allowed inside either of these holy sites.
Saudi Arabia Holidays Planner
The bustling city of Riyadh has many fascinating sights, including a fortress, an ancient palace, the souk, and the fantastic National Museum. Vibrant Jeddah, in the same region as Mecca, has an old town full of coral-built houses and narrow streets, and is a major centre for scuba diving.
High altitude Abha is popular in the baking Saudi summer – you can visit the Turkish fortress and get a cable car up the Jabal Sawda mountain. Outside the cities, you may be able to arrange dune bashing and desert safaris. You'll need an advance permit to get into Madain Saleh, an incredible city hewn out of rock.
Travel Facts
Capital: Riyadh
Language(s): Arabic
Demonym: Saudi Arabian, Saudi (informal)
Area: 2,149,690 km2 (13th)
Population: 27,136,977 (46th)
Currency: Saudi riyal (SAR)
Time Zone: AST (UTC+3)
Drives on the: right
International Airport: 35 km north of Riyadh
Weather Jan: Av Temp: 14°C / Rain Days: 2
Weather July: Av Temp: 36°C / Rain Days: 0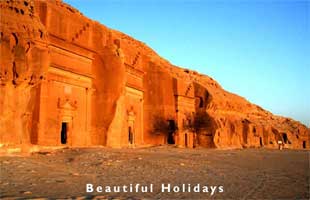 Saudi Arabia Desert
Saudi Arabia Travel Info
As Saudi Arabia is a major destination for pilgrims, it has excellent air connections, and you can reach it by bus from other countries in the region. The most important thing you need to enjoy a holiday to the Kingdon is some early preparation. Make sure you get your visa well in advance, and forget about backpacking – you'll only get in if you're booked with one of a handful of tour companies. If you're not a Muslim, you may want to check whether or not you're visiting during Ramadan; in public, you'll have to stick with the same fasting rules as everyone else. As you've probably guessed by now, you should check up on and changes to travel restrictions, and read up on local customs before you go.