Nassau Hotels Guide
Bahamas, West Indies

Only in Nassua, the capital of New Providence Island in The Bahamas, can you find glitzy casinos, modern resorts, duty-free shopping, renowned dining experiences, and fabulous swimming, snorkeling, and diving spots on the same streets as the Straw Market, British colonial architecture, pirate memorabilia, and street music, as well as hair braiders on every corner. Do everything or do nothing, Nassau residents will love you either way, and are happy to be your hosts, guides, and friends. This high-energy destination spot invites celebrity spotting, music and motion, shopping, and excellent accommodation choices, and serves as a perfect base for Bahamas island-hopping.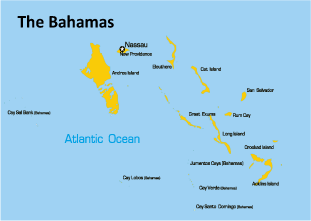 Map of Nassau
Nassau Highlights
Nassau Holidays Planner
Nassau is a mecca for the energetic of all ages, along with numerous camera-shy celebs. Where else can you wander among the same street that once welcomed the likes of Blackbeard, Henry Morgan, and Anne Bonney? Climb the Queen's Staircase—with one step for each year of Queen Victoria's life, the top of this limestone staircase, considered one of the top ten outdoor staircases in the world, offers one of the best high-altitude views of the area.
Take the time to visit one of the more interesting tourist attractions -The Dig on nearby Paradise Island. The Dig is a veritable maze of rooms, tunnels, and displays that explore the 11,000-year-old history of fabled Atlantis (the lost city, not the nearby resort hotel). Accommodations abound, and range from tiny, inexpensive inns to fabulous 5-star resorts.
Nassau Accommodation Guide
The pink-sand beaches attract sun worshipers from around the globe, and the diving around Nassau is always a treat for anyone who loves fantastic colours, incredible sea creatures, and the chance to explore a sunken wreck. The streets of Nassau are filled with jitneys, careening cabs, bargaining vendors (never take the first offer – they do love a good bout of bargaining), and bargain-hunting cruisers on shore leave. West of the wharf you'll find "pirates" to take you through the Pirates of Nassau Museum; the beauty of the Ardastra Gardens; and the Cloisters, brought all the way from Europe. At night the city comes alive with casinos, clubs, dancing, and music everywhere, from the chic clubs to waterfront taverns, you will always find a party to suit your mood.
Nassau Travel Info
International flights are available to and from Lynden Pindling International Airport (NAS) outside of Nassau. Paradise Island also has a smaller airport for interisland flights and for hops from nearby Miami, Florida. To get around New Providence you have your choice of the local jitneys (buses), ubiquitous taxis, or rental vehicles. To travel to Paradise Island there are ferries that run all day and cost just US$3.