Antigua Holidays Guide
The Caribbean

The twin island nation of Antigua & Barbuda, sitting between the Atlantic Ocean and the Caribbean Sea (E/SE of Puerto Rico),is one of the most picturesque destinations in the Caribbean. Used by Admiral Horatio Nelson in the 1700s as a safe haven for the British fleet, Antigua is the largest island and is often called the 'Land of 365 Beaches;" Barbuda, just 40 km away, has long stretches of virgin beach with powder-soft pink and white sand and is considered a birdwatchers paradise; and Redonda, one of the numerous tiny islands that are also part of the country, is basically that deserted island you always wanted to run away to.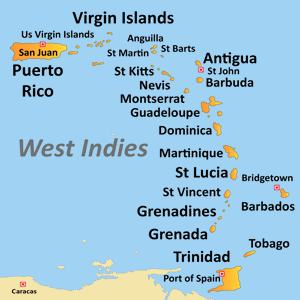 Map of Antigua
Antigua Highlights
Antigua Holidays Planner
This island is world-famous mainly for six activities: relaxing in one of the hundreds of secluded beaches; diving down to the stunningly beautiful coral reefs where dozens of wreaks dot the ocean floor; sailing or yachting in the crystal clear blue waters surrounding the islands; bird-watching; and celebrity-spotting. There are other things to do here, of course – parasailing, golfing, biking, sunbathing, massages, tennis, cricket, or leisurely exploring the many forts and other remnants of colonial days.Antigua & Barbuda is a place of peace and quiet. The majority of accommodations can be found on Antigua, including top-notch yacht clubs and resorts, cottages, villas, inns, apartments, guest houses, and some unique homes for rent. There are fewer than a dozen places to stay on all of Barbuda, so if it's peace, quiet, and seclusion you crave, remember to book your rooms early.
Antigua Accommodation Guide
Antigua is all of 280 sq. km, and retains many vestiges of its British colonial heritage. The capital of St. John's is the islands hub for shopping and dining, as well as being the location of the magnificent St. John's Cathedral, built first in 1845, and the Museum of Antigua & Barbuda, found in the colonial Court House (c. 1750).English Harbour and Nelson's Dockyard in the historical district are not-to-be-missed sightseers destination.
The Dockyard plays host to the annual Sailing Week competition and Classic Yacht Regatta every April. Barbuda, just 160 sq. km, is home to the largest Frigate bird colony in the Caribbean, as well as numerous other tropical birds like warblers, oystercatchers, mockingbirds, ibises, and herons. Barbuda is so underdeveloped it almost seems as though you are alone on the island most of the time. Take advantage of the opportunity to explore the seemingly endless stretches of pink and white sand beaches.
Antigua Travel Info
Antigua's VC Bird International Airport, on the northeast corner of the island, is the port of entry for Antigua & Barbuda. Getting to the outer islands is easy – flights are available regularly and takes less than 30 minutes, and the Barbuda Express—a wave-piercing shuttle boat—will speed you between St. John's and Barbuda in about 90 minutes. Taxis can be found throughout Antigua, and there are both local busses and tour busses available. Hiring a car is all the major agencies are here; it's an excellent way to really enjoythe island at your own pace.