Promote your Resort in Beautiful Pacific

Beautiful Holidays offers fixed fee advertising opportunities in its highly targeted destination travel page segments in the hugely read South Pacific travel portal www.BeautifulPacific.com. There are a maximum of three Advertising Banners on each travel guide page so be quick to secure your placement.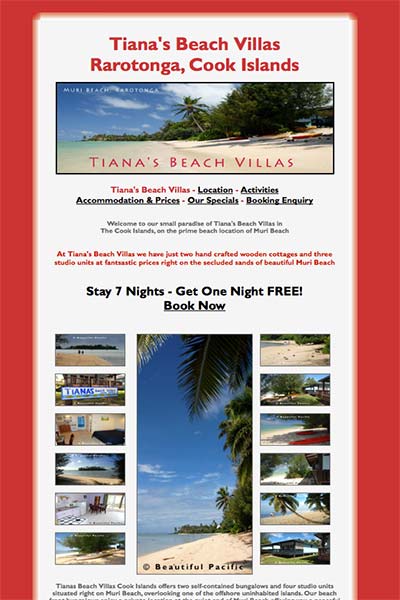 Reservations in Australia
We'll create a brand new website dedicated to selling your resort and promote this in the local Australian market for sales. We'lll handle reservations for all enquires made via this website and earn commission on any bookings generated.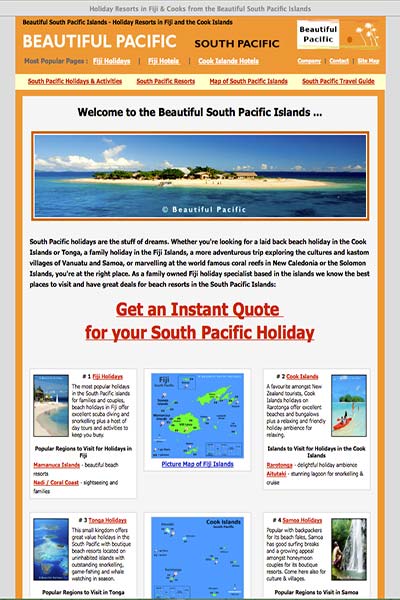 Free Exposure via Beautiful Pacific
We will promote the dedicated website with a priority listing in our stratgic Beautiful Pacific travel portal as well as through dedicated advertsing banners. The website will feature through all our socail media networks (Beautiful Pacific Facebook page has 6500+ dedicated fans) including the promotion of all your specials or upcoming events.
Priority Hotel Directory Listings
Increase your brand exposure and direct bookings. You'll get preferential listings above your competitors in all relevant hotel directories in our award-wining Beautiful Pacific website - all enquiries generated from your dedicated hotel page are delivered direct to your reservations team so you can increase your direct bookings. We will also update your resort feature page every 6-months and provide additional exposure through our own social media channels!
6 months dedicated listing = A$ 800
1 year "Top Pick" listing = A$ 1,400
2 year "Top Pick" listing = A$ 2,300
Hotel "Top Pick" Listing Example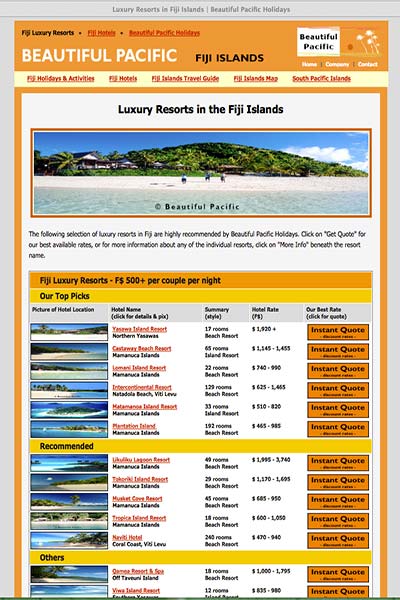 Beautiful Pacific Hotel Directory
Get visibility in our directory with a link to a dedicated information page and instant quote. There are 3 categories for each destination you'll be listed in: 1x price, 1x region and 1x hotel style... plus the main destination hotel directory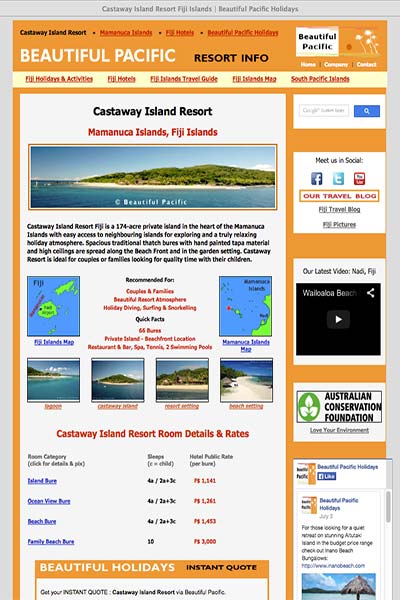 Dedicated Resort Info Page
This page promotes your resort and includes a link to your own website providing exceptionally high valued PR ranking. We will include prices for each room category, quotes (with the email delivered to your reservations) and up to 16 photographs along with text promoting your resort.